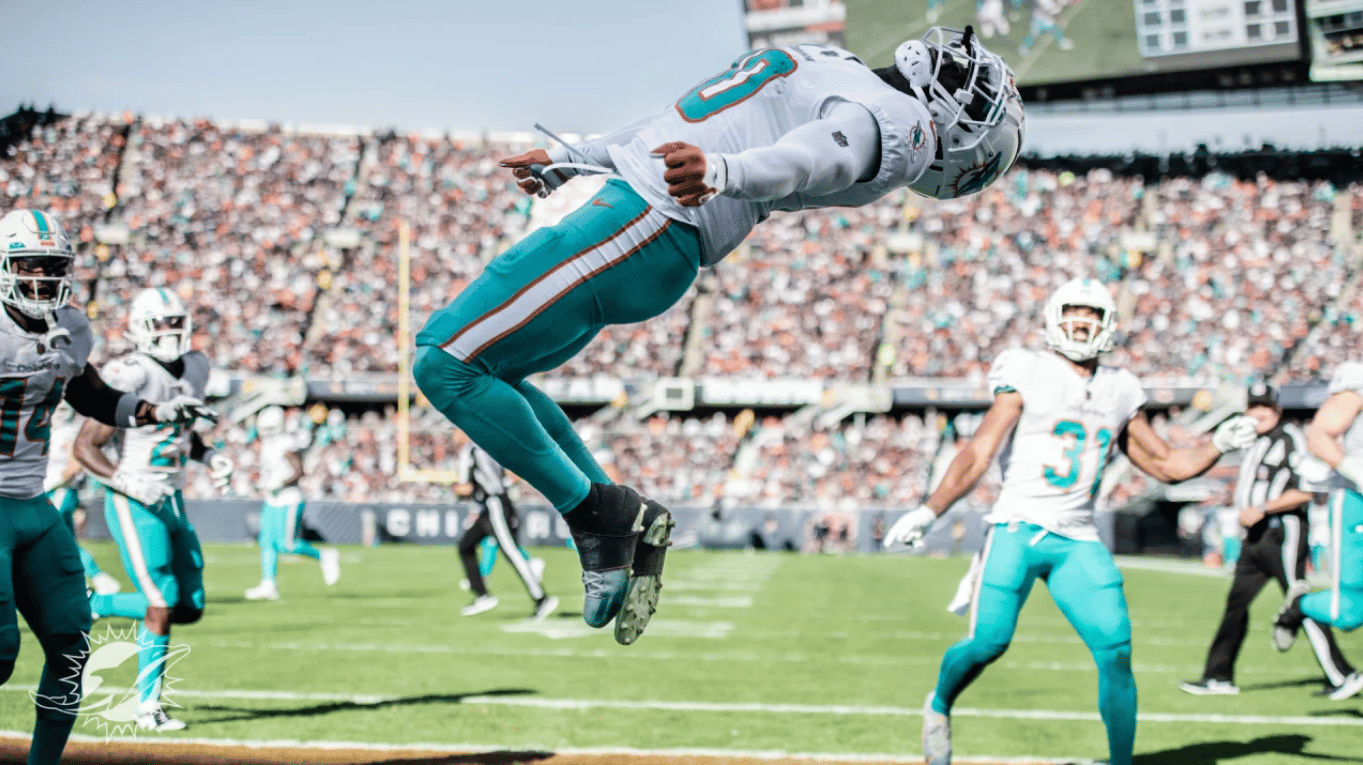 Chicago Bears (3-6) – Miami Dolphins (6-3): 32-35
Offensive Fiesta at Soldier Field in Chicago, the spectators were probably no longer used to it. On the one hand, the now classic Dolphins formula: Tua to the Tyreek / Waddle duo. On the other side an absolutely unstoppable Justin Fields on the ground. At the end of an open house game in defense, the Dolphins win by a short header against surprising Bears.
Justin Fields plays to his strengths
For the first time maybe since his draft last year, Justin Fields (17/28, 123 yards, 3 TD, 15 runs, 178 yards, 1 TD on the run) delivered an XXL match, especially on the double- ground threat. Throughout the game, the Florida defenders were completely unable to stop the ex-Ohio State player. Averaging almost 12 yards per carry, including a 61-yard breakaway ending in the end zone, Fields rolled over the Dolphins.
JUSTIN. FREAKING. FIELDS.

📺: #MIAvsCHI on CBS pic.twitter.com/jFMAg0BeH7

—Chicago Bears (@ChicagoBears) November 6, 2022
In the air, it's a little more laborious, even if 6 different receivers will have picked up the ball, including newcomer Chase Claypool (2 receptions, 13 yards).
Miami plays with its rockets
If the Dolphins failed to stop Fields, the same can be said for the Bears and the Miami offense. As since the start of the season, Tua Tagovailoa is inspired by Cape Canaveral, and sends into orbit his rockets Tyreek Hill (7 receptions, 143 yards, 1 TD) and Jaylen Waddle (5 receptions, 85 yards, 1 TD). Hill already exceeds 1000 yards this season, in just 9 games. His current marks exceed those of Calvin Johnson and at this rate he will exceed the mythical bar of 2000 yards. The Dolphins feast especially on the intermediate zones (10-20 yards from the line of engagement), and the absence of Roquan Smith is sorely felt among the players of Windy City. Never sacked throughout the game, Tua delivered a very clean match: 21/30, 302 yards, 3 TD.
And just like that @cheetah is over 1K yards on the season! 👀🐆

📺: Watch #MIAvsCHI we @NFLonCBS pic.twitter.com/6wo35LItKt

—Miami Dolphins (@MiamiDolphins) November 6, 2022
Unlike the Bears, the Dolphins also manage to have success with their running backs, including Mike McDaniel's newest toy, Jeff Wilson Jr (9 carries, 51 yards, 3 receptions, 21 yards, 1 TD).
While the two defensive coordinators will surely have a lot to review before their next game, the Dolphins are doing the right thing in this AFC East, and especially after the Bills' loss to the Jets. On the side of the Bears, not everything is to be thrown away. If the defense contains their opponents better, Fields should be able to get a few wins thanks to his personal qualities.