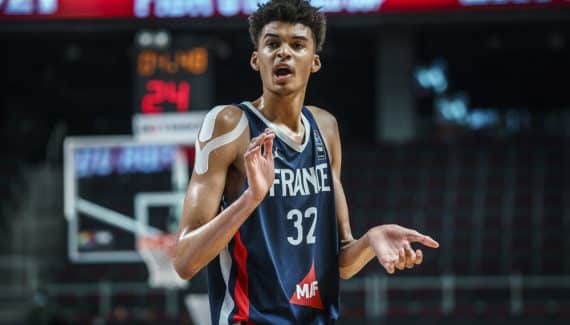 For the first match of the Blues since their silver medal at the last EuroBasket, there will certainly not be NBA stars, nor even those of Euroleague. But, not the least of the consolations, there will be Victor Wembanyama, the new nugget of tricolor basketball who will celebrate his first selection for the A.
It will be early evening in Lithuania, at Panevezys to be precise (from 6:30 p.m. on France 4 and Bein Sport 2). A first cape on an armistice day, a symbol strongly tinged with patriotism for the great hope of the country, the one who more than ever embodies the future of the orange ball. A future that begins today!
"Fighting for your country gives you higher energy"
"I have this fiber for the national jersey since the young teams", he explains in a long interview for L'Equipe. "The motivation is even greater. Fighting for your country gives you a higher, inner energy. I will try to adjust as best I can, to contribute to two victories for the France team. »
Rookie among four others (Juhann Bégarin, Damien Inglis, Ismaël Kamagaté, Yoan Makoundou) in a French team which still and always has to do with the means at hand for these international windows, Victor Wembanyama seems in any case to have heard the speech of coaching staff, starting with Vincent Collet whom he knows well for frequenting him on a daily basis in the club, with Boulogne Levallois.
"In the international game, everything starts with defence. I hope to bring freshness, presence. I wouldn't say that I hope to play or dominate like with Boulogne. The first thing will be to adapt to the level. Afterwards, the objective, before my performance, is always to win, no matter how. »
Like many generations since the founder of Parker, Diaw and Piétrus, Victor Wembanyama fell into the blue pot when he was very young.
Silver medalist at the European Championship in under 16, then vice-world champion a year ago, "Wemby" has already had great moments in the national jersey. And others that he still can't digest…
"This defeat [en finale face aux Etats-Unis], I have thought about it every day since July 11, 2021. I had never been so involved in a team, a competition. When everything crumbles in an instant as you touch your dream, it's hard. Just thinking about it makes my jaw clench. It's a regret, an unfilled box inside me, that I have to fix. »
A basketball player with a talent as immense as his stature, Victor Wembanyama amazes both by his maturity in the face of the enormous buzz he arouses and by his competitiveness, which is also innate, as evidenced by his performances in Las Vegas, but also those achieved on the French soil in the league (21 points, 9 rebounds, 3 assists, 3 blocks on average for 25 evaluation, the best in the League). Make no mistake about it, behind his smile and his innocent look, the boy is a very bad loser!
" Blues [seront] always in the back of my mind"
"Losing can drive me a little crazy, it causes a bubbling, an instinct that I can't let express freely because you have to stay civilized [rires]. I need to win. I got a lot of individual trophies in youth – best blocker here, All-Star that… That's good, but I can't feel accomplished, proud, if my team loses. Because, simply, I don't like anyone above me. »
For his first steps in Blue, in the privacy of the Cido Arena with its 5,500 spectators, Victor Wembanyama has rather favorable conditions, knowing all the same that the Blues have an important match to play, against the leader of the group, at 7 wins for 1 loss.
"We expect him to be one of the leaders, there is no reason", says Vincent Collet. "What he shows weekly in the league, we hope will have the same type of impact internationally. He has the weapons to do it. »
Called to take off for the NBA next season, and already prepared to spend a good part of his professional life across the Atlantic, Victor Wembanyama keeps his future blue dreams in mind.
"The Blues are only a few months in the year, but it is no less important, and it will always be in the back of my mind" he concludes thus.
Photo credit: FIBA