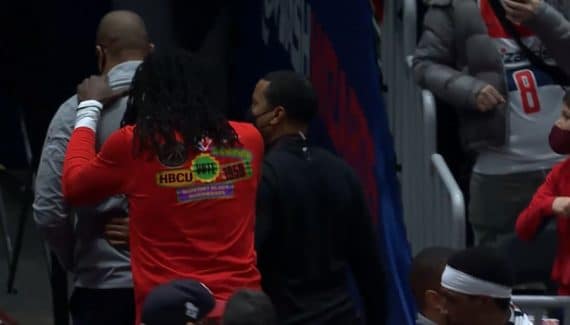 The tension goes up a notch at the Wizards. About fifteen seconds from the end of the match against the Heat, largely won by Miami, things got heated between Mike Batiste, assistant to Wes Unseld Jr, and a spectator.
The first suddenly left his seat to approach the second, who visibly displayed inappropriate behavior or words. Montrezl Harrell and Thomas Bryant rushed in to intervene and prevent things from going any further. The former Clippers player accompanied his assistant to the locker room. According to NBC Sports Washingtonthere was no physical contact during the altercation.
"I was near the scorer's table, I turned around and it had started. From what I understand, one or more fans said something inappropriate. We obviously have to be exemplary, we can't afford this kind of thing. I think it was a situation where something was said that was a little overboard and it got the better of one of our coaches. Anyway, you have to know how to get high", convicts Wes Unseld Jr.
This altercation comes as the Wizards have just lost their eighth game in nine games, on an average difference of 11 points. After an exciting first part of the season, the Wizards only occupy 11th place in the East. And the transfer deadline, which could shake up the workforce, seems to affect some players.
For the record, after a brief stint in the NBA (75 games in Memphis in 2003), Mike Batiste became a legend in Europe, accumulating titles at Panathinaikos. Three times winner of the Euroleague (2007, 2009 and 2011), nine times champion of Greece, seven times of the Greek Cup, MVP of the Greek championship and of the final in 2010…