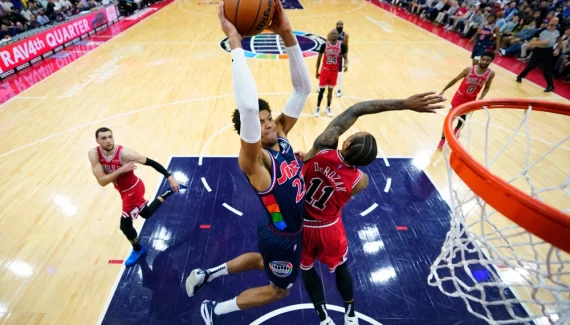 Matisse Thybulle is one of the best outside defenders in the NBA, but his lack of offensive impact, and in particular outside address (32% career 3-point success) poses problems for Doc Rivers.
Does his defensive influence compensate for the fact that opposing defenses can skip him in attack, to focus on Joel Embiid? It has long been a question for the Sixers coach, especially in anticipation of the playoffs, but the arrival of James Harden could change the situation.
Because if the Australian has exceeded 10 points only eight times during this campaign… he has done so three times in the five games since the arrival of James Harden. His duo with "The Beard" also displays promising advanced stats: 131.1 points scored on 100 possessions over the 101 minutes during which they were associated, and a "Net Rating" (difference between points scored and points conceded on 100 possessions) of +26.1.
Encouraged to cut as much as possible in the back of the defense by Doc Rivers this season, Matisse Thybulle is taking full advantage of the attraction created by James Harden and Joel Embiid since the duo was formed.
"I must continue to learn to play alongside him" explains Matisse Thybulle. "He teaches me things on the fly. There are things I see, things I miss, and it's all about me complementing his game as best I can, because it creates so many opportunities, not just for him and me, but also for the whole team. He sees a lot of things before they happen, and I just have to keep up. "
Also screen installer on the pick-and-roll
It's also work for James Harden, who is looking to maximize his teammates on offense.
"I try to find ways to help each teammate. Matisse is a great defender. We all know that. He deflects a lot of balls. I think it's my job to help him a bit offensively, just like he helps us defensively, so he can score easy baskets and feel good about himself. "
Against the Bulls, he was also used in an unusual situation late in the game. Instead of playing the pick-and-roll between James Harden and Joel Embiid, it was Matisse Thybulle who played the screen installers.
"I 'rolled' a lot towards the circle in this match"confirmed the Boomer. "It's just a possibility that opens up. The way teams play James is quite unique, in their way of blitzing (aggressive two-man) or pushing him to the right. They do a lot of stuff and my goal was basically to force a change of defender but by cutting it also creates space and with that he can do what he knows how to do. "
Between his cuts and this pick-and-roll, Matisse Thybulle can thus be much more useful offensively alongside James Harden than he usually is. And that could be valuable at the end of the season.
Matisse Thybulle
Percentage
Bounces
Season
Team
GM
Minimum
Shots
3 points
LF
Off
Def
Early
pd
party
Int
bp
CT
Points
2019-20
PHL
65
20
42.3
35.7
61.0
0.7
1.0
1.7
1.2
2.2
1.5
0.8
0.7
4.7
2020-21
PHL
65
20
42.0
30.1
44.4
0.5
1.5
1.9
1.0
2.0
1.6
0.5
1.1
3.9
2021-22
PHL
49
26
50.0
29.1
72.4
0.5
1.8
2.3
1.2
2.4
1.7
0.6
1.1
5.8
Total
179
22
44.6
31.9
61.4
0.6
1.4
1.9
1.1
2.1
1.6
0.6
1.0
4.7