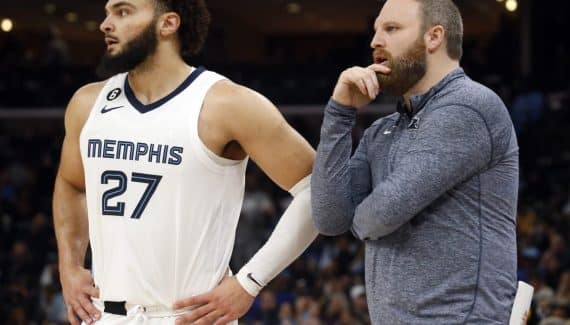 Dillon Brooks pushed to the exit, the Grizzlies however did not recruit anyone on the wings to replace him during the last "free agency". What to ask about the name of the future titular winger of Memphis…
To evolve alongside Ja Morant (when the latter has served his suspension), Desmond Bane, Jaren Jackson Jr. and Steven Adams, two options seem available to Taylor Jenkins: Jake LaRavia And David Roddywho were also both present during the Summer League.
The former has a more attacking profile, and he averaged 18.3 points in four Summer League games, even though his address percentages (38% including 32% from distance) were average. The second, who has accumulated 13.8 points with 48% success (17% from afar) in the Summer League, has a more defensive profile, and his impressive physique has already saved him minutes during his rookie campaign, to take care of Kevin Durant, LeBron James or Luka Doncic.
Two competing sophomores
"Last year was the year of the first experiences, whereas now everything comes back a second time", he assures the Commercial Appeal. "The game has slowed down a lot for me over the past few months, so I'm trying to keep it that way and be the best player I can be. »
Everything will probably depend on Taylor Jenkins. Will the coach seek to densify his defense with David Roddy, despite his limited 3-point shot? Will he rather opt for the attack, with a stronger Jake LaRavia in the field, even if he knows that he must be more aggressive, like this Summer League where he did not hesitate to unsheath?
"The shots will fall in, although it will not always be the case" assures the other sophomore. "All my shots were good, and it's my mindset to be aggressive and take all the shots I get. »
Memphis also has a third option, a little forgotten: Ziaire Williams.
The latter also has a fairly defensive profile, but in a different style from that of David Roddy since he is more comfortable on fast players like Stephen Curry, or who move more without the ball.
Shots
Bounces
Players
GM
Minimum
Shots
3 points
LF
Off
Def
Early
pd
bp
Int
CT
party
Points
Ja Morant
61
31.9
46.6
30.7
74.8
1.0
4.9
5.9
8.1
3.4
1.1
0.3
1.6
26.2
Desmond Bane
58
31.8
47.9
40.8
88.3
0.7
4.3
5.0
4.4
2.2
1.0
0.4
2.6
21.5
Jaren Jackson, Jr.
63
28.4
50.6
35.5
78.8
1.7
5.0
6.8
1.0
1.7
1.0
3.0
3.6
18.6
Dillon Brooks
73
30.3
39.6
32.6
77.9
0.6
2.7
3.3
2.6
1.4
0.9
0.2
3.3
14.3
Luke Kennard
24
24.6
52.6
54.0
94.7
0.4
2.8
3.1
2.3
0.7
0.5
0.0
1.5
11.3
Tyus Jones
80
24.2
43.8
37.1
80.0
0.4
2.2
2.5
5.2
0.9
1.0
0.1
0.4
10.3
Brandon Clarke
56
19.5
65.6
16.7
72.3
1.6
3.9
5.5
1.3
1.0
0.6
0.7
2.3
10.0
Santi Aldama
77
21.8
47.0
35.3
75.0
1.1
3.7
4.8
1.3
0.8
0.6
0.6
1.9
9.0
steven adams
42
27.0
59.7
0.0
36.4
5.1
6.5
11.5
2.3
1.9
0.9
1.1
2.3
8.6
Xavier Tillman, Sr.
61
19.3
61.4
26.7
55.1
2.0
3.0
5.0
1.6
0.7
1.0
0.5
1.6
7.0
David Roddy
70
18.0
42.9
30.7
63.1
0.7
2.0
2.8
0.8
0.8
0.4
0.3
1.5
6.7
Zaire Williams
37
15.2
42.9
25.8
77.3
0.4
1.7
2.1
0.9
1.0
0.4
0.2
1.6
5.7
John Konchar
72
20.7
43.1
33.9
77.8
0.9
3.4
4.3
1.4
0.5
1.1
0.3
1.6
5.1
Kenny Lofton, Jr.
24
7.3
52.7
35.3
59.3
0.8
1.3
2.1
0.8
0.5
0.2
0.1
1.2
5.0
Jake Laravia
35
11.8
38.9
33.8
77.8
0.5
1.3
1.8
0.6
0.5
0.3
0.1
1.4
3.0
Jacob Gilyard
1
40.8
33.3
33.3
0.0
0.0
4.0
4.0
7.0
2.0
3.0
0.0
3.0
3.0
Danny Green
3
14.5
27.3
37.5
0.0
0.3
1.0
1.3
0.7
1.0
0.3
0.0
2.0
3.0
Kennedy Chandler
36
7.8
42.2
13.3
46.2
0.3
0.8
1.1
1.6
0.5
0.3
0.1
0.4
2.2
Vincent Williams, Jr.
15
7.0
30.0
14.3
100.0
0.3
0.7
1.0
0.3
0.3
0.4
0.1
0.8
2.0