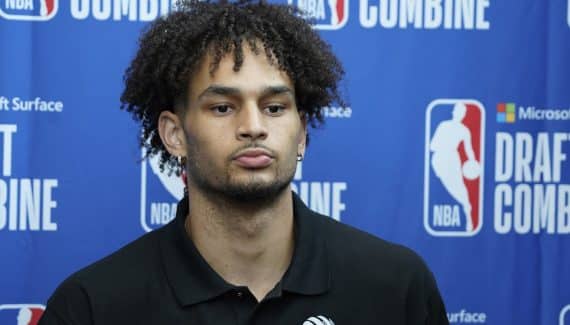 "Every player is different, but there can be similarities. Derek's strengths are his size and athleticism, and I think he can impact the game on both ends of the floor. It's one of the things that reminds me of the player I was."
To say the least Derek Lively II caught the eye of Tyson Chandlerformer glory of the Mavs, NBA champion in 2011 now present in the staff of Jason Kidd. The 2m13 pivot passed by Duke and recovered by Dallas during the Draft is also attracting a lot of interest, since Jason Kidd is even considering making him start quickly. Why not from the first preseason matches.
Brilliant for his first training
Tyson Chandler's feedback on his foal's first training sessions should reassure him in his position. The 2011 NBA champion has indeed described a player invested and determined to progress. He also highlighted its speed of assimilation.
"His first day was excellent," assures Tyson Chandler after the Mavs' training camp opened. "He assimilates things very quickly. I thought he did a good job getting in and out of his pick-and-rolls, and with his defensive presence. He communicates very well for a young person on the field. I like the way he moves. The first action where he played with Luka Doncic and Kyrie Irving, I thought it was great. He adapted pretty quickly to what they expected of him on the pick-and-rolls, and on the court. I appreciate the confidence he puts in communicating with them on the ground. That's important for a young man."
Jason Kidd, for his part, underlined how the presence of Tyson Chandler alongside Derek Lively II would be beneficial to the rookie in reaching the different levels perhaps more quickly.
"The mentorship D-Live receives through Tyson's coaching is pretty special. Through his energy and ability to communicate, Tyson put D-Live in a positive situation to help them understand what was going to happen, and D-Live responded positively," explained the Texan coach.
In the major five in Abu Dhabi?
Even if it's difficult to imagine the behavior of Derek Lively II in an NBA match and in the frantic pace of the regular season, all the lights are green for the moment for Tyson Chandler.
"I think he will be able to do whatever we ask of him. The most important thing is to train him to help him understand what he sees on the field and the flow of the game. He will have some slack. He's a rookie. He's young. He's going to have to learn. Each time he goes to see players for the first time, until he gets to play against them a second and third time. So I'm not worried about all that, it will come with time. He's come a long way from Summer League to today. He has made a big leap forward. If he continues to be consistent, I'm sure he'll get playing time very soon. I said it back in the summer, because of his ability to block shots and get out of the pick-and-roll and playing above the circle. The more he sees, the more ready he will be to face match situations."
One more week of training before the first preseason match against Minnesota in Abu Dhabi on October 5, a meeting where Derek Lively II could therefore be propelled into the major five in order to continue his learning with big clients opposite.