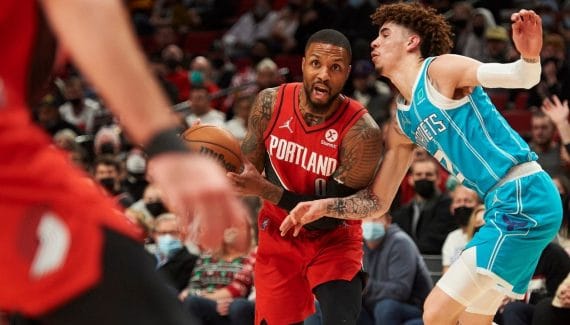 Damian Lillard therefore finally went to the pool table to solve this abdominal problem that he has been dragging on for a long time and which has ruined his Olympic Games and his start to the season. The leader has waited as long as possible but given his performance and the results of the Blazers, he finally agrees to take a step back.
"It was not easy at all because I love being on the pitch. I like being on the pitch and playing", he explains to his team's website. "I've always been available to play but I think the older you get the more experience you have, not just in sport but in life, and it becomes more important to be strategic. My pride might make me say, 'Keep fighting, do your job one more time. Try to go to the playoffs. But as I get older, I know I can't do any of this if I'm not in your best shape. I am not in good health, my mind and my body are not on the same wavelength. "
Damian Lillard has however done everything to delay the deadline as much as possible, by trying to relieve the pain by multiple phases of rest, or cortisone injections. Before the operation becomes inevitable.
"I know that the operation will ultimately be the best for the team, too", he assures. "I prefer to be selfish for the team, for our organization and the direction I want for it. It made no sense to keep doing what we were doing. Okay, it's about taking a step back, but then taking a few steps forward. This is just what had to happen".
For the 31-year-old leader, something had to be done anyway to break the negative spiral.
"It's something I've been fighting for the last four years, four and a half years. I was doing this to allow the team to shine, but the healthier I was, the further away that possibility was. I just felt the time had come. With the current state of our team and my health, I felt it was time to do this, swallow my pride and think long term. My mind wanted to do something my body couldn't., he concludes.
An absence which in any case allows his protege, Anfernee Simons, to take responsibility.
Damian Lillard
Percentage
Bounces
Season
Team
GM
Minimum
Shots
3 points
LF
Off
Def
Early
pd
party
Int
bp
CT
Points
2012-13
ORP
82
39
42.9
36.8
84.4
0.5
2.6
3.1
6.5
2.1
0.9
3.0
0.2
19.1
2013-14
ORP
82
36
42.4
39.4
87.1
0.4
3.1
3.5
5.6
2.4
0.8
2.4
0.3
20.7
2014-15
ORP
82
36
43.4
34.3
86.4
0.6
4.0
4.6
6.2
2.0
1.2
2.7
0.3
21.0
2015-16
ORP
75
36
41.9
37.5
89.2
0.6
3.4
4.0
6.8
2.2
0.9
3.2
0.4
25.1
2016-17
ORP
75
36
44.4
37.0
89.5
0.6
4.3
4.9
5.9
2.0
0.9
2.6
0.3
27.0
2017-18
ORP
73
37
43.9
36.1
91.6
0.9
3.6
4.5
6.6
1.6
1.1
2.8
0.4
26.9
2018-19
ORP
80
36
44.4
36.9
91.2
0.9
3.8
4.6
6.9
1.9
1.1
2.7
0.4
25.8
2019-20
ORP
66
38
46.3
40.1
88.8
0.5
3.8
4.3
8.0
1.7
1.1
2.9
0.3
30.0
2020-21
ORP
67
36
45.1
39.1
92.8
0.5
3.8
4.2
7.5
1.5
0.9
3.0
0.3
28.8
2021-22
ORP
29
36
40.2
32.4
87.8
0.5
3.7
4.1
7.3
1.3
0.6
2.9
0.4
24.0
Total
711
36
43.7
37.3
89.3
0.6
3.6
4.2
6.7
1.9
1.0
2.8
0.3
24.6