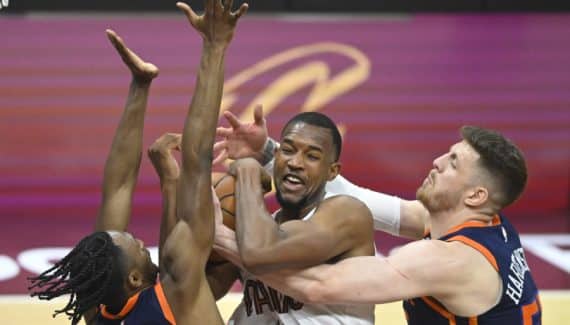 Young and talented, the Riders are, on the other hand, inexperienced in the playoffs, since most players are taking part in their first campaign, and Saturday night's Game 1 against the Knicks was in this a first reminder of the requirements required in the "postseason", particularly with regard to the physical intensity.
A point on which the troops of Ohio must progress from Game 2, after being dominated during the first round by their opponent, whose physical impact is one of the hallmarks of this season.
" Physical intensity clearly made the difference, against us "launched thus Darius Garland. " But it was a good lesson for us. [Les Knicks] took us out of our game and out of our game plan because they hit first, and we couldn't respond. We got mistreated. It's up to us to change that. »
For JB Bickerstaff, this lost Game 1 was even already a " alarm bell for his team, on the importance of elbowing in the playoffs. " It's impossible to describe in words what a playoff game is. You have to live it to understand it. So it was a good learning curve for our guys. They understood how physical it was. "Added the Cleveland club technician.
The offensive rebound, the mountain to climb for the Cavaliers
At the center of the physical intensity concerns of Darius Garland and his teammates during Game 1, the offensive rebound was indeed the most representative element. This is even the ultimate cause of their defeat, since they let slip two important offensive rebounds in the last minute, to Isaiah Hartenstein and then especially to Julius Randle. On arrival, New York captures 17 over the whole match (for 23 points from the Knicks on second chances).
Not a surprise since New York was the third best team in the league in this exercise at the end of the regular season, but on the other hand an urgent axis of improvement for the Cavaliers.
" The game changes in the playoffs, the whistles are more permissive. That's the key to this series. Can we limit their domination to the offensive rebound? If we don't make it, it's going to be complicated for us added a realistic JB Bickerstaff. " If we succeed, the series will balance out and we will have our chances. »
The final word for Darius Garland, who intends to test the consistency of the referees in Game 2, by raising his voice.
" The referees let play a lot. So this time we'll strike first, and see how [les arbitres] will react. Rather than leaving the [Knicks] strike first, and wait for whistles "Concludes the leader of the Cavaliers. " That's the mentality to adopt against this team. Set the tone. »
Shots
Bounces
Players
GM
Minimum
Shots
3 points
LF
Off
Def
Early
pd
bp
Int
CT
party
Points
Donovan Mitchell
68
35.8
48.4
38.6
86.7
0.9
3.3
4.3
4.4
2.6
1.5
0.4
2.5
28.3
Darius Garland
69
35.5
46.2
41.0
86.3
0.4
2.3
2.7
7.8
2.9
1.2
0.1
2.1
21.6
Evan Mobley
79
34.4
55.4
21.6
67.4
2.4
6.6
9.0
2.8
1.8
0.8
1.5
2.8
16.2
Jarrett Allen
68
32.6
64.4
10.0
73.3
3.3
6.5
9.8
1.7
1.4
0.8
1.2
2.3
14.3
Caris Levert
74
30.2
43.1
39.2
72.2
0.7
3.1
3.8
3.9
1.6
1.0
0.3
2.3
12.1
Cedi Osman
77
20.1
45.1
37.2
69.4
0.3
2.0
2.3
1.5
0.7
0.5
0.1
1.6
8.7
Kevin Love
41
20.0
38.9
35.4
88.9
1.0
5.8
6.8
1.9
1.1
0.2
0.2
1.6
8.5
Danny Green
8
11.9
50.0
44.8
100.0
0.3
1.0
1.3
0.5
0.9
0.6
0.4
1.3
6.5
isaac okoro
76
21.7
49.4
36.3
75.7
0.7
1.8
2.5
1.1
0.6
0.7
0.4
2.1
6.4
lamar stevens
62
18.1
44.8
31.6
70.2
0.8
2.6
3.3
0.5
0.4
0.4
0.3
1.3
5.3
Ricky Rubio
33
17.2
34.3
25.6
80.0
0.3
1.8
2.1
3.5
0.9
0.8
0.2
1.5
5.2
Sam Merrill
5
11.7
40.9
27.8
100.0
0.0
1.8
1.8
1.0
0.0
0.8
0.0
0.6
5.0
Dean Wade
44
20.3
41.2
35.4
65.2
0.5
3.0
3.4
0.8
0.4
0.6
0.5
2.0
4.7
Raulzinho Neto
48
10.5
51.8
28.6
91.2
0.2
0.8
1.0
1.6
0.5
0.4
0.1
1.0
3.3
Robin Lopez
37
8.1
64.0
50.0
77.8
0.6
0.8
1.4
0.5
0.7
0.1
0.2
1.2
3.0
Mamadi Diakite
22
8.0
48.0
33.3
100.0
0.4
1.0
1.4
0.4
0.5
0.2
0.4
1.2
2.6
Isaiah Mobley
12
7.0
42.9
37.5
100.0
0.3
1.3
1.7
0.3
0.1
0.3
0.3
0.7
2.6
Dylan Windler
3
3.5
66.7
50.0
0.0
0.0
0.0
0.0
0.3
0.3
0.3
0.0
0.0
1.7