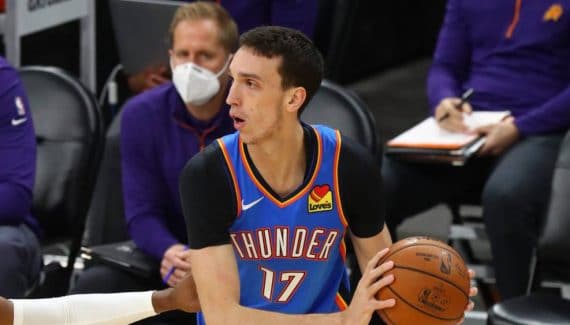 The Thunder did not move on the evening of the "trade deadline", and the Oklahoma City franchise continues to rack up defeats at high speed, with a current series of five consecutive losses (after another of seven interspersed with three victories in a row). But, internally, the reconstruction project continues.
In this case, since the beginning of February, it is Aleksej Pokusevski, the Serbian "unicorn" selected in the 17th choice of the Draft 2020 who is starting to act up.
Poku must be violent
" I'm feeling good. My time in the G-League helped me a lot. " Back from one of his many G-League trips, the former Olympiakos player managed three rather interesting games in a row with 12 points, 9 rebounds and 3 assists in Sacramento, then 18 points, plus 4 rebounds and 4 steals against the Raptors, or 15 points and 6 rebounds in Philly.
"I thought he fought well, which is the most important thing for him"launched Mark Daigneault in The Oklahoman after the game against Sacramento.
Going from 24 to 16 minutes of play on average (and from 28 starts to only 2), Poku is experiencing a completely different treatment for his second season in the NBA. Gone are the days of carefree rookie season, and Theo Maledon can attest to that! This year, the Serb must demonstrate that he is not just a prospect but a player who can positively iNFLuence the game of his team every second he spends on the pitch.
"He just has to continue to be a complete player and really fight"hammered Mark Daigneault after the match against Toronto.
Gone are the days of carelessness
Still very young (20 years old), Aleksej Pokusevski has 5 points and 4 rebounds this season. A minimal production that reflects this youth and inexperience. The watchword of the Thunder was therefore to make life difficult for its Serbian player to take him to a new level.
"We tested his resistance to stress this year", continues Mark Daigneault. "We made it difficult for him. The lesson is that it has to be hard and hard is a good thing. "
Talented with the ball in hand, capable of attacking the circle as well as shooting an arrow behind the arc, Aleksej Pokusevski is on the other hand still very tender physically and he logically tends to avoid contact or battle in the paint. A tendency to erase quickly if he wants to fulfill his potential.
"He's starting to see the fruits of his labor, but he has to keep putting his nose in the fight," concludes Mark Daigneault. "First and foremost, he fought well. Ultimately, it will grow stronger. His strength and speed will improve, it's pretty easy to predict I think. What will make him a great player is putting his nose in the fight. "
Aleksej Pokusevsky
Percentage
Bounces
Season
Team
GM
Minimum
Shots
3 points
LF
Off
Def
Early
pd
party
Int
bp
CT
Points
2020-21
OKAY
45
24
34.1
28.0
73.8
0.7
4.0
4.7
2.2
1.3
0.4
2.2
0.9
8.2
2021-22
OKAY
39
16
39.6
26.7
50.0
1.0
3.3
4.2
1.2
1.3
0.6
1.2
0.5
5.4
Total
84
21
36.0
27.6
67.9
0.8
3.7
4.5
1.7
1.3
0.5
1.7
0.7
6.9