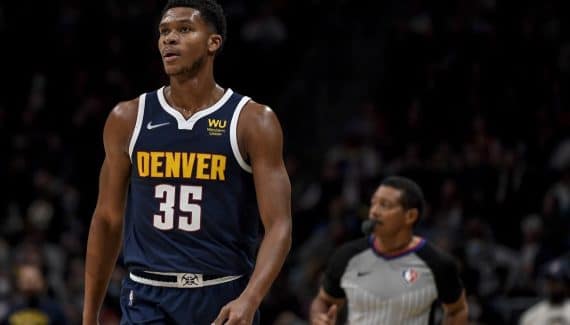 Former president of the Nuggets and new strongman of Wolves, Tim Connelly has chosen to imitate Daryl Morey and surround himself with players he knows well. As proof, after Bryn Forbes and Austin Rivers, he has just hired PJ Dozier, former rotation of Jamal Murray and Will Barton in Denver. After the transfers this summer, Wolves still had three free places in their squad.
While he had gradually made his place in the rotation of Mike Malone in Denver, PJ Dozier had been stopped short by a rupture of a cruciate ligament of the knee last November.
In a triangle exchange with San Antonio, the Nuggets had immediately transferred him to Boston with Bol Bol, also injured, in order to get their hands on… Bryn Forbes, who has also just joined Minnesota. A month later, the Celtics parted ways with him, sending him to the Magic. There, he was finally cut, so Minnesota decided to relaunch him after ten months without playing.
The good news is that he's been fully recovered since June, so he's had a classic summer training normally.
Free agent PJ Dozier is signing a deal with the Minnesota Timberwolves, sources tell ESPN. Dozier is coming back from a December 2021 ACL injury. Dozier played with Denver under new Wolves president Tim Connelly.

— Adrian Wojnarowski (@wojespn) September 17, 2022
PJ Dozier
Percentage
Bounces
Season
Crew
GM
Minimum
Shots
3 points
LF
Off
Def
Early
pd
party
Int
bp
CT
Points
2017-18
OKAY
2
2
50.0
0.0
0.0
0.0
0.5
0.5
0.0
0.5
0.0
0.5
0.0
1.0
2018-19
BOS
6
9
38.1
25.0
50.0
1.0
1.8
2.8
0.8
0.3
0.3
0.0
0.0
3.2
2019-20
DEN
29
14
41.4
34.7
72.4
0.3
1.6
1.9
2.2
1.6
0.5
0.9
0.2
5.8
2020-21
DEN
50
22
41.7
31.5
63.6
0.7
2.9
3.6
1.8
1.7
0.6
0.9
0.4
7.7
2021-22
DEN
18
19
36.4
31.3
76.9
0.8
2.7
3.5
1.6
1.8
0.6
0.7
0.3
5.4
Total
105
18
40.7
31.9
67.3
0.6
2.4
3.0
1.8
1.6
0.6
0.8
0.3
6.4