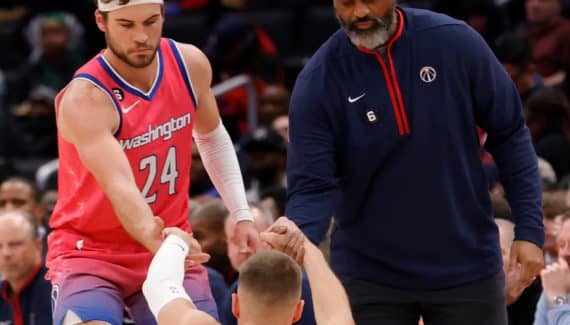 All the means are good to find the smile. In Washington, which recently experienced a series of ten defeats, we are delighted to see the infirmary finally empty.
If Deni Avdija and Will Barton were to be allowed to play, the Wizards could indeed have a full squad for the first time this season tonight when they host the Sixers.
"I don't know when was the last time we had a good training like this, where everyone could train"said Kristaps Porzingis yesterday. "Deni is still working on his comeback, but it was competitive today."
The policy of small steps
While Rui Hachimura and Delon Wright were able to return last week, Wes Unseld Jr. indicated that Will Barton and Deni Avdija would perform a final test this morning. While waiting for everyone to be on the same wavelength again, the contributions of the last two ghosts are already being felt.
"We talked at length about Delon Wright's ability to contain his opponents one-on-one. Hopefully it helps us take fewer points in the paint. He has size, good activity with his hands. So it also helps for the rebound. He did a pretty good job in a short period, but he's really a top defender." recalled Wes Unseld Jr.
For Kristaps Porzingis, these additional options simply bring more "fire power" to the Wizards. The objective now is to take advantage of this to gradually climb back up the slope.
"We have to do it. But we can't pretend either. When you lose ten games in a row, you can't rely on confidence. But once you start winning, you can build that confidence. And we have won two of our last three games. We must be able to rely on these successes and the good things we have done to maintain this confidence.
What is certain is that Washington will have no more excuses, even if the calendar which presents itself promises to be far from obvious, between receptions in Philly, Phoenix then a "road-trip" including two away in Milwaukee.
Shots
Bounces
Players
GM
Minimum
Shots
3 points
LF
Off
Def
Early
pd
bp
Int
CT
party
Points
Bradley Beal
22
34.7
52.7
33.0
85.8
0.9
2.8
3.7
5.2
2.8
1.0
0.5
1.9
23.7
Kristaps Porzingis
30
32.8
46.8
32.5
79.5
2.0
7.0
9.0
2.6
2.1
1.0
1.5
3.0
21.9
Kyle Kuzma
33
35.3
46.9
34.3
68.9
1.0
6.6
7.6
3.5
2.7
0.6
0.4
2.5
21.8
Rui Hachimura
18
23.7
49.7
34.9
73.3
0.7
4.3
4.9
1.2
1.3
0.3
0.4
1.2
11.8
Monte Morris
29
28.6
45.5
39.0
74.3
0.3
2.9
3.2
5.1
0.9
0.9
0.2
1.5
9.8
Corey Kispert
26
28.1
49.2
40.5
75.0
0.6
1.9
2.5
1.5
0.6
0.6
0.2
1.6
9.5
Will Barton
31
22.3
37.1
37.0
80.0
0.2
2.8
3.0
2.7
1.2
0.5
0.3
1.2
8.3
Deni Avdija
32
26.1
41.6
29.6
79.6
0.8
4.7
5.5
2.7
1.4
0.8
0.7
3.1
8.1
Jordan Goodwin
26
21.6
47.9
40.0
72.7
1.2
3.0
4.2
3.1
1.1
1.2
0.6
1.9
7.8
Daniel Gafford
34
15.1
74.0
0.0
58.0
1.7
2.6
4.3
0.5
0.9
0.4
1.1
1.8
6.7
Delon Wright
5
21.2
40.0
25.0
71.4
0.8
1.4
2.2
4.2
0.8
2.4
0.8
1.4
5.6
Taj Gibson
21
8.7
51.0
25.0
72.2
0.4
1.0
1.5
0.4
0.4
0.4
0.2
1.8
3.1
Anthony Gill
27
10.9
57.4
14.3
82.4
0.6
1.0
1.5
0.5
0.2
0.2
0.2
1.3
2.9
Jordan Schakel
2
3.1
50.0
100.0
0.0
0.0
0.0
0.0
0.5
0.0
0.5
0.0
0.5
1.5
Johnny Davis
9
5.4
27.3
0.0
100.0
0.1
0.4
0.6
0.2
0.1
0.0
0.1
1.3
1.0
Devon Dotson
6
8.9
10.0
25.0
0.0
1.0
0.7
1.7
1.3
0.5
0.8
0.0
1.5
0.5
Isaiah Todd
4
3.1
25.0
0.0
0.0
0.0
0.0
0.0
0.0
0.0
0.0
0.0
0.0
0.5
Vernon Carey, Jr.
3
1.7
0.0
0.0
0.0
0.0
0.3
0.3
0.0
0.3
0.0
0.0
0.7
0.0