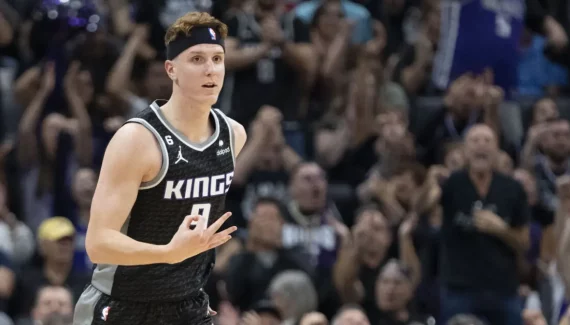 After four seasons in Atlanta, marked by a conference final in 2021 against the Bucks, Kevin Hurter packed his bags. The red-haired rear with a silky shot, so much so that he has been nicknamed "Red Velvet", landed in Sacramento during the summer, and the least we can say is that the Californian air does him the greatest good.
Currently averaging more than 18 points, 6 more than his best production with the Hawks, Huerter has already scored 20 or more points four times in seven games with the Kings this season, when he had him. took 74 games to do it last season…
"My role can potentially grow a little bit here," explains Huerter in The Athletic. "Just in the way the team was built, with the players in place, around [Domantas Sabonis] and play around the pivot. »
A promising two-player game with Sabonis
It was in Ibiza, while he was on vacation in the sun, that is to say without being glued to his phone H24, that he learned that he was exchanged! A shock necessarily, but not a surprise either.
"When I finally got my phone back, basically all the most important people in my life had texted me. A few people from the Atlanta franchise were asking me to call them. My agent the same. My parents the same. I wouldn't necessarily say I expected it, but I was prepared for it. »
In this case, it is largely thanks to his growing chemistry with Domantas Sabonis that Huerter has had such a good start to the season in California.
Their two-man game, with Sabonis' passing quality and versatility on the one hand, and Huerter's outside shooting and IQ on the other, is starting to do serious damage to the opposition's defenses. What to appear high in the "scouting report" of their opponents, evening after evening…
"Domas sets really good screens. It allows me to be able to pick up speed and play the opposing pivot in 2-on-1 situations. In Atlanta, John Collins is one of the biggest threats on the roll after the screen, which he doesn't often pose in fact. But here, Domas poses a lot of screens. It's just a different game, with a different rhythm and style. »
More involved in creation
Moved from Trae Young to De'Aaron Fox, Huerter seems to have found a sidekick more suited to his game on the back lines. Not the greatest of outside shooters, Fox is much more into percussion and recovery, and therefore more into shots from mid-range or outright to the basket, which suits Huerter's outside game much better.
But the former Maryland can also flaunt his full offensive panoply in Sacramento, unlike Atlanta where he was more of an exclusive "finisher". Under the approving gaze of Mike Brown, who had already spotted him last season for his creative versatility.
"Offensively, [les Hawks] are a bit different from our team," says Brown. "Trae carries the ball a lot, so Kevin was often playing without the ball. They played a lot of pick & roll so Kevin was more on the outside. With us, he has balls out of dribble, out of screens, on cuts to the circle and cuts in "backdoor". We make it move. »
In full success with his new team, 50% on shots including 53% from 3-pointers, Huerter is in the middle of his "honeymoon" with the Kings. It now remains to make the pleasure last, and above all to win. To (finally) bring the Kings back to the playoffs, they who hold the sad record for the greatest number of consecutive seasons without being able to access it…
Kevin Hurter
Percentage
Bounces
Season
Crew
GM
Minimum
Shots
3 points
LF
Off
Def
Early
pd
party
Int
bp
CT
Points
2018-19
ATL
75
27
41.9
38.5
73.2
0.8
2.5
3.3
2.9
2.1
0.9
1.5
0.3
9.7
2019-20
ATL
56
31
41.3
38.0
82.8
0.6
3.5
4.1
3.8
2.5
0.9
1.6
0.5
12.2
2020-21
ATL
69
31
43.2
36.3
78.1
0.6
2.8
3.4
3.5
2.4
1.2
1.1
0.3
11.9
2021-22
ATL
74
30
45.4
38.9
80.8
0.4
3.0
3.4
2.7
2.5
0.7
1.2
0.4
12.1
2022-23
BAG
6
31
50.0
53.2
78.9
0.0
3.0
3.0
4.2
2.2
0.5
1.0
0.2
18.3
Total
280
30
43.2
38.4
78.8
0.6
2.9
3.5
3.2
2.4
0.9
1.3
0.4
11.6