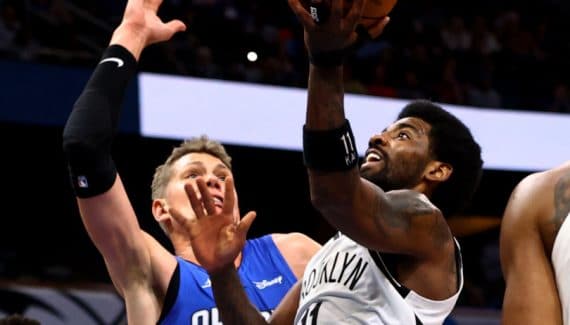 Kyrie Irving sent very heavy again. After planting 50 points a week earlier on the floor of Charlotte, the Nets point guard offered his career best by scoring 60 points (also the new franchise record) last night on the floor of a team of 'Orlando helpless in the face of his demonstration.
"Uncle Drew" quickly found his rhythm by starting his demonstration with three 3-point baskets and was already at 16 points after a first quarter of anthology for the Nets, authors of 48 points in 12 minutes.
Without forcing
But the second quarter was even more dazzling on his part with 25 points and a little more aggression towards the circle generated by his outside address to arrive at 41 points at the break, 14/19 in shooting, including 6 /7 to 3-pointers! The playmaker did not slow down when he returned from the locker room, punctuating his recital with a few baskets from elsewhere to reach 60 points from a new basket behind the arc.
Eight minutes from time, Kyrie Irving then took his leave, congratulated by the entire Nets bench, and did not come back into play, the game having been folded for a long time.
" I felt good. It's really a testament to how we get along as a team and how we give each other confidence by playing the right way." did he declaredelighted, as in Charlotte, to have had the feeling of not forcing anything. "When you can score 60 points in the rhythm of the game and it doesn't feel forced, you don't throw too many bad shots, and you come back to the bench and the guys support you, tell you to go get the record shows that basketball is worth it".
Upon arrival, the 2016 NBA champion finished with a busy line of stats: 60 points at 20/31 shooting including 8/12 from afar, 6 rebounds, 4 assists, 4 steals, 1 block and only one lost ball in "barely" 35 minutes of play.
A healthy emulation with Kevin Durant.
Slowed down by health constraints since the start of the season, Kyrie Irving is taking revenge on the pitch with a more than promising new performance. After Kevin Durant's 53 points on Sunday, the two players seem on the same wavelength one month from the end of the regular season.
"Across the league, guys are doing crazy performances," he recalled, referring to the 60 points passed by Karl-Anthony Towns the day before. "But there, we have two guys from the same team competing, in a friendly and fraternal competition. Of course we talk about it, but we really want to do it right. We take this game seriously and we want to be efficient, while making everyone feel good. And prove to all the teams in the league that we can be effective defensively and offensively".
Kyrie Irving recalled that it was still with a ball in his hands that he expressed himself best, placing himself among the greatest of this game and living up to the hopes that legends like Kobe Bryant and or LeBron James have placed in him in the past.
"That's basketball, just bring love, perform and do it with a humble approach".
Kyrie Irving
Percentage
Bounces
Season
Team
GM
Minimum
Shots
3 points
LF
Off
Def
Early
pd
party
Int
bp
CT
Points
2011-12
KEY
51
31
46.9
39.9
87.2
0.9
2.9
3.8
5.4
2.2
1.1
3.1
0.4
18.5
2012-13
KEY
59
35
45.2
39.1
85.5
0.6
3.1
3.7
5.9
2.5
1.5
3.2
0.4
22.5
2013-14
KEY
71
35
43.0
35.8
86.1
0.7
2.9
3.7
6.1
2.3
1.5
2.7
0.3
20.8
2014-15
KEY
75
36
46.8
41.5
86.3
0.7
2.4
3.2
5.2
2.0
1.5
2.5
0.3
21.7
2015-16
KEY
53
32
44.8
32.2
88.5
0.8
2.1
3.0
4.7
2.0
1.1
2.3
0.3
19.6
2016-17
KEY
72
35
47.3
40.1
90.5
0.7
2.5
3.2
5.8
2.2
1.2
2.5
0.3
25.2
2017-18
BOS
60
32
49.1
40.8
88.9
0.6
3.2
3.8
5.1
2.0
1.1
2.3
0.3
24.4
2018-19
BOS
67
33
48.7
40.1
87.3
1.1
3.9
5.0
6.9
2.5
1.5
2.6
0.5
23.8
2019-20
BRK
20
33
47.8
39.4
92.2
1.1
4.1
5.2
6.4
2.7
1.4
2.6
0.5
27.4
2020-21
BRK
54
35
50.6
40.2
92.2
1.0
3.8
4.8
6.0
2.6
1.4
2.4
0.7
26.9
2021-22
BRK
18
36
47.6
40.8
89.7
0.6
4.1
4.6
5.4
2.6
1.2
2.4
0.7
25.9
Total
600
34
47.0
39.2
88.1
0.8
3.0
3.8
5.7
2.3
1.3
2.6
0.4
22.9