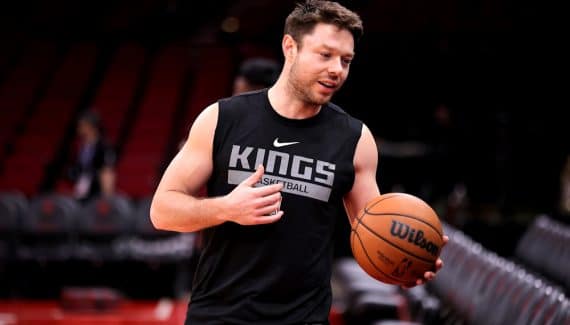 Will we see Matthew Dellavedova in the NBA again? The question deserves to be asked since the former leader of the Cavaliers has signed up for two seasons with Melbourne United. He returns home, to Australia, and after having essentially played a role of mentor to the Kings (about 200 minutes played…), it is hard to imagine him returning one day to the NBA. It is also a strategic choice.
"With the World Cup this year and then the Olympics next year, I feel it's better for me to have playing time" he explained. "I absolutely loved this year in Sacramento. We had a great group, and it was really fun to help them get back to the playoffs. But I also really want to play. »
It's a comeback for Dellavedova as he played in Melbourne a year ago and averaged 10.3 points, 3.1 rebounds and 4.8 assists there. A team where he will occupy a real role of playmaker, and which had allowed him to recover his health after a head injury had compromised the rest of his career.
"That's one of the things that really helped me come back two years ago. I started out a bit slow, trying to find a rhythm and get healthy, and playing a role that I hadn't really played, other than with the Boomers a bit and at Saint Mary's" he continues. "I have already had the opportunity to play with the others. This time my physique is in much better shape and I know what to expect when playing Dean's system again with the same players, the transition will be much easier. The most important thing is that I loved my season there. I had a lot of fun and felt that my game was improving. We had a good group, and it looks like we're going to have a lot of the same guys back, which is going to be fun. »
But be careful, he warns that he is not closing the door to the NBA… "For the moment, I am fully on the NBA, but I will never completely close the door to the NBA. »
How to read the stats? MJ = matches played; Min = Minutes; Shots = Shots made / Shots attempted; 3pts = 3-points / 3-points attempted; LF = free throws made / free throws attempted; Off = offensive rebound; Def= defensive rebound; Tot = Total bounces; Pd = assists; Fte: Personal fouls; Int = Intercepts; Bp = Lost bullets; Ct: Counters; Points = Points.