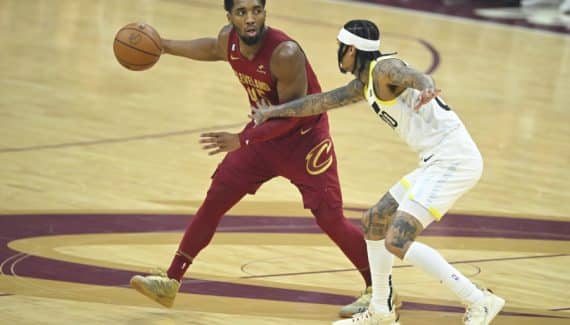 The Riders have been on a roll lately, with four wins in their last five outings before this encounter, while the Jazz returned to the ranks with two wins in the last five games.
And the logic was indeed respected, since the teammates of a Donovan Mitchell sober but effective for his first reunion with his former club made short work of the Utah squad, with a victory of 23 points (122-99), the fourth consecutive.
It was clearly not the most exciting game of the season, since the mass was already more or less said at halftime, when the Cavs were at +18 after scoring 62 points at 65% on shots, while stifling the Jazz attack with an intractable defense: 44 points scored at 36% on shots for Utah, with more ball losses (10) than passes (9)…
The second period was then a "garbage time" of 24 minutes, the Jazzmen not returning once below the 10 point mark, the gap even reaching 25 points difference.
WHAT YOU MUST REMEMBER
– The successful reunion of Donovan Mitchell. The Jazz had already played twice against Rudy Gobert this season, but still not against Donovan Mitchell. And while we could have imagined, in an ideal scenario, a disputed match, with a "Spida" on a mission to kill his old squad, it was not. In a match that quickly became a "blowout", the Cleveland back did not really need to work hard, which did not prevent him from signing a very good performance, sober and efficient: 23 points (including 15 in the first half) at 8/12 on shots including 4/5 from 3-pointers, as well as 2 rebounds and a small assist. Nothing sensational, but a serious and controlled outing, as usual. Not to mention that victory is at the end of the day. It is certain, Donovan Mitchell spent a good evening.
– A business smoothly conducted by the Cavaliers. It's quite simple: it was one of Cleveland's most complete games this season. On both sides of the field, the Cavaliers have indeed shown great seriousness, to grant themselves a quiet victory. In attack, a devilishly high skill: 61% on shots, including… 58% from behind the arc (15/26!), with a ball that went well and many counter-attack phases completed (29 points). Counter-attacks made possible thanks to a large defensive volume, embodied by this enormous defensive rebound dominance, with 40 takes against 20 for their opponents, and a good challenge out wide, the Jazz players converting only 10 of their 34 attempts behind the arch. The ideal formula to contain to less than 100 points a team which, before the meeting, was fourth in the league in offensive evaluation (116.2 points out of 100 possessions). A big black spot, however, which highlights a valuable axis of progression for these Cavaliers: ball losses, 20 in total, almost as much as their assists (24). But overall, the Cleveland game was very successful, in every way.
TOPS & FLOPS
✅ Darius Garland. Despite 6 ball losses and a still very limited pick-and-roll defense, the Cleveland point guard left the floor with the best +/- of his team, with a nice +25. Thanks to 17 points and 8 assists, and a view still mesmerizing.
✅ Jarrett Allen. Boss game for the Cavaliers defense boss, who distributed 3 blocks and grabbed 9 defensive rebounds. In total, 11 rebounds and 20 points (7 baskets in the paint and 6 free throws), in just 30 minutes. Clean and flawless.
✅⛔️ Lauri Markkanen. Back in Cleveland, the Finn is a rare reason for satisfaction in the rout of his team, at least in attack. But we still have a taste of unfinished business in his match, since he scored 22 of his 24 points in the first half. More erased after the break, and very well defended by the Cavaliers it must be said, the one who also found his former team, in a context obviously totally different from that of Donovan Mitchell, nevertheless had the place to do better.
⛔️ Malik Beasley. The Jazz shooter did not pretend to miss: 3 points at 1/10 on shots, including 9 shots taken from behind the arc! In wanting to adjust, it is totally out of adjustment. Despite everything, this remains a rather unworrisome failure, as the former Florida State has been a metronome in practice since the start of the season: 40% success rate out of 8.6 attempts per game!
THE FOLLOWING
– Riders (21-11): reception of the Bucks, on the night of Wednesday to Thursday (01:00)
– Jazz (17-16): "back-to-back" in Detroit (01:00)
Cleveland

/

122
Shots
Bounces
Players
Minimum
Shots
3 points
LF
O
D
T
pd
party
Int
bp
CT
+/-
Points
Rating
E.Mobley
31
4/6
0/1
4/6
0
8
8
3
2
0
1
0
+18
12
18
I. Okoro
30
4/8
1/4
3/4
1
1
2
4
2
1
1
0
+10
12
13
J.Allen
30
7/11
0/0
6/6
2
9
11
2
3
1
3
3
+18
20
30
D. Garland
30
7/11
2/4
1/1
0
1
1
8
2
1
6
0
+25
17
17
D.Mitchell
23
8/12
4/5
3/3
0
2
2
1
4
0
1
0
+8
23
21
K.Love
24
1/3
1/3
0/0
0
10
10
3
2
0
2
1
+9
3
13
C.Osman
24
8/10
5/6
1/2
0
2
2
1
0
1
2
1
+15
22
22
R.Lopez
5
0/1
0/0
0/0
0
3
3
0
1
0
1
0
-1
0
1
R.Neto
12
0/0
0/0
0/0
0
2
2
1
3
1
1
0
+4
0
3
C.LeVert
31
4/8
2/3
3/4
1
2
3
1
1
0
2
0
+9
13
10
43/70
15/26
21/26
4
40
44
24
20
5
20
5
122
148
Utah

/

99
Shots
Bounces
Players
Minimum
Shots
3 points
LF
O
D
T
pd
party
Int
bp
CT
+/-
Points
Rating
L. Markkanen
32
7/12
3/6
7/10
1
5
6
1
2
2
2
0
-21
24
23
J.Vanderbilt
24
3/7
0/1
1/1
3
3
6
0
2
0
3
0
-12
7
6
W.Kessler
25
5/5
0/0
1/4
2
4
6
1
5
1
1
2
-9
11
17
Mr. Conley
28
3/8
1/3
0/0
1
1
2
9
2
2
3
0
-10
7
12
J.Clarkson
32
8/21
3/6
4/4
1
1
2
0
2
1
3
0
-17
23
10
S. Fontecchio
10
1/4
1/3
0/0
0
0
0
0
0
1
0
0
-6
3
1
R.Gay
12
1/3
1/2
2/2
1
1
2
1
1
0
0
0
0
5
6
U.Azubuike
6
2/3
0/0
0/0
2
2
4
1
1
0
0
0
-2
4
8
Mr Beasley
23
1/10
1/9
0/0
1
2
3
2
2
0
0
0
-10
3
-1
N. Alexander-Walker
19
2/7
0/1
0/0
1
1
2
3
3
0
0
0
-13
4
4
T. Horton-Tucker
15
2/7
0/2
2/2
1
0
1
0
1
1
2
0
-11
6
1
L.Bolmaro
6
1/3
0/0
0/0
1
0
1
0
0
0
0
0
-2
2
1
O.Agbaji
6
0/2
0/1
0/0
0
0
0
1
1
0
0
0
-2
0
-1
36/92
10/34
17/23
15
20
35
19
22
8
14
2
99
87