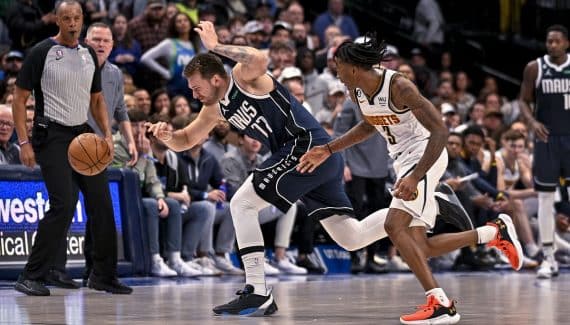 Did the end of the first half between Dallas and Denver have an impact on the final result, so close since the Nuggets won by one point? Luka Doncic preferred to dismiss this thesis after the game. "It's an important differential but I don't think it decided the fate of the game. »
What exactly is the Slovenian star talking about? We are in the last seconds of the second quarter. Luka Doncic picks up the ball and sends a 3-point shot. The buzzer sounds and it falls in. Except that, according to the referees, the Dallas player set foot on the sideline.
"Video showed his heel was on the line when he shot"justifies the referee Sean Wright in ESPN. " I don't think I was off the pitch." replied the All-Star for his part. "I've seen videos and it looks like I'm not even touching the line, my heel was up. »
The end of the first period replayed before the start of the second
After reviewing the images, the referees still decide to cancel this shot, but as the two teams have already returned to the locker room for the break, rather than recalling the players, the officials opt for another solution. "We will play the two seconds after returning from the locker room, before starting the second half immediately afterwards"says Sean Wright.
The Nuggets then have two seconds to play, to finally conclude this first period, before starting the second in stride. Luka Doncic's compatriot, Vlatko Cancar, tries his luck in his camp and scores at 3-pts!
"The coach said to me: 'Vlatko, I'm putting you on the pitch to try this shot from midfield'"explains the Slovenian, who therefore came into play for these two seconds. "As soon as he said that, I couldn't wait to take it. Spencer Dinwiddie and Doncic were on defense, but they probably didn't think I was going to shoot. Because nobody takes those shots in the NBA, to avoid ruining their percentage. Me, I don't care. »
We therefore went from a score of 59-52 in favor of Dallas, after the shot scored by Luka Doncic, to 56-55, still for the Texans, after the cancellation of the previous shot and the successful one from the winger of the Nuggets.
This imbroglio could have remained an anecdote, but as the Mavericks ended up losing by one point, after a missed decisive shot from Luka Doncic (another one), these three points canceled for Jason Kidd's players, then those added to the Michael Malone's troops logically take on another dimension…