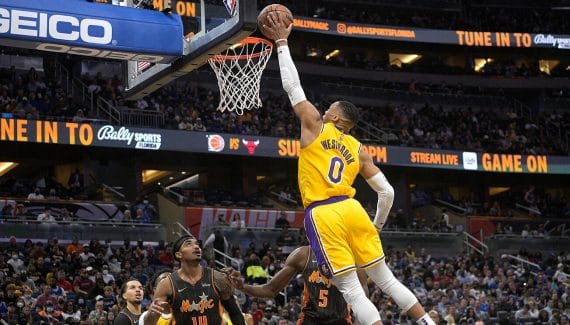 Russell Westbrook has been particularly heckled lately as the Lakers are going through tough times. We remember the episode on the side of the Kings where he was carried away by the DJ of the room, to which was added his ban(c) in the "money time" of the last match lost against the Pacers.
The Californians, however, were able to raise their heads tonight by winning 116-105 in Orlando to start a good six-game road trip, and Russell Westbrook brought his stone to the building alongside LeBron James (29 points) and Carmelo Anthony (23 points) with 18 points, 11 rebounds, 7 assists and 3 steals.
"It's my job as a player, as a professional, to do my job, to keep finding ways to help the team and have an impact on winning. That's all I was thinking about, turning the page, and that's what I tried to do tonight." he said after the meeting.
A road trip to turn the page
Also at the heart of the tensions, Frank Vogel buried the hatchet so to speak after putting aside his starting point guard at the most important moment of the meeting against the Pacers in the previous game. By doing so, he will at least have succeeded in bringing out the strength of character and professionalism of his leader, even if confirmation will obviously be expected against a better armed opponent.
"Russ had a very good game. He arrived very focused, played effectively offensively and brought pure energy to the game. He just wanted to impose his will, play his role and had a hell of a match., welcomed Frank Vogel. "Russ is a man of strong character. We knew we were going to react. We communicated after the fact to make sure we understood what was going on, which is that we are coaching just to win a game. And we turn the page with Orlando. And he's done a great job maintaining that focus and we're all committed to making sure this band does the job. We still believe in what we can be. It's been hectic throughout the year. But we are fully committed."
After all, this road trip can be an opportunity to close ranks and start on a new dynamic for the future and an opportunity for Russell Westbrook to show himself in a better light.
"We started well with a victory, we have to go to Miami and find a way out of it with a victory as well. But it's an important road trip for us, to create bonds and unity for our group, to be together and to get some victories to create a certain rhythm, a certain confidence, in order to be the team. that we all know we should be", added Russell Westbrook.
Russell Westbrook
Percentage
Bounces
Season
Team
GM
Minimum
Shots
3 points
LF
Off
Def
Early
pd
party
Int
bp
CT
Points
2008-09
OKAY
82
33
39.8
27.1
81.5
2.2
2.7
4.9
5.3
2.3
1.3
3.3
0.2
15.3
2009-10
OKAY
82
34
41.8
22.1
78.0
1.7
3.2
4.9
8.0
2.5
1.3
3.3
0.4
16.1
2010-11
OKAY
82
35
44.2
33.0
84.2
1.5
3.2
4.6
8.2
2.5
1.9
3.9
0.4
21.9
2011-12
OKAY
66
35
45.7
31.6
82.3
1.5
3.1
4.6
5.5
2.2
1.7
3.6
0.3
23.6
2012-13
OKAY
82
35
43.8
32.3
80.0
1.4
3.9
5.2
7.4
2.3
1.8
3.3
0.3
23.2
2013-14
OKAY
46
31
43.7
31.8
82.6
1.2
4.5
5.7
6.9
2.3
1.9
3.9
0.2
21.8
2014-15
OKAY
67
34
42.6
29.9
83.5
1.9
5.4
7.3
8.6
2.8
2.1
4.4
0.2
28.2
2015-16
OKAY
80
34
45.4
29.6
81.2
1.8
6.0
7.8
10.4
2.5
2.0
4.3
0.3
23.5
2016-17

★

OKAY
81
35
42.5
34.3
84.5
1.7
9.0
10.7
10.4
2.4
1.6
5.4
0.4
31.6
2017-18
OKAY
80
36
44.9
29.8
73.7
1.9
8.2
10.1
10.3
2.5
1.8
4.8
0.3
25.4
2018-19
OKAY
73
36
42.8
29.0
65.6
1.5
9.6
11.1
10.7
3.4
2.0
4.5
0.5
23.0
2019-20
HOO
57
36
47.2
25.8
76.3
1.8
6.2
7.9
7.0
3.5
1.6
4.5
0.4
27.3
2020-21
WAS
65
36
43.9
31.5
65.6
1.7
9.9
11.5
11.7
2.9
1.4
4.8
0.4
22.2
2021-22
ALL
45
35
43.3
30.4
66.8
1.4
6.6
8.0
7.8
3.1
1.1
4.2
0.3
18.5
Total
988
35
43.7
30.5
78.6
1.7
5.8
7.4
8.5
2.6
1.7
4.1
0.3
23.0