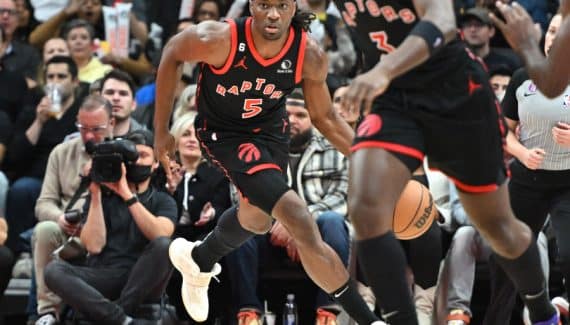 While he hinted that he was going to take a step forward this season, after a studious summer, and his coach Nick Nurse confided in September at the opening of the "training camp" that he had indeed observed a click in his player , Precious Achiuwa disappointed since the start of the season.
After a season rookie acclimatization to the NBA spent in Miami, then a season sophomore promising in Toronto, the Nigerian strong winger is far from this famous milestone that he mentioned a few months ago, in this young 2022/23 season, his third in the Big League.
Less effective in attack (barely more than 40% in shots), Precious Achiuwa also disappoints, and above all, in defense according to Nick Nurse, who mobilizes him less often than last year (20.4 minutes against 23.6), while Scottie Barnes continues to progress and that Pascal Siakam, even though he is currently injured, has regained his All-Star status.
" He needs to play better. It's that simple. He is too fickle. » says Nick Nursewhich points in particular to a lack of investment and execution in the defensive phases.
So, before last night's game, won by the Raptors at home against the Rockets (4 points and 6 rebounds in 12 minutes for Precious Achiuwa), the Toronto coach, not tender with his interior but motivated by the idea of relaunch it, took the bull by the horns.
By talking one-on-one with his player, to explain his areas of progress, videos in support.
" Precious is a good guy. When I show him these footage, he can't say much other than, 'Yes Coach, I agree. I can play better, and I want to play better'. I ask him what he didn't understand. I ask him for his feedback, his feelings, to understand how to help him "he adds, despite everything benevolent in the background. " And I told him that these games at 12, 15 or 17 minutes were not what I had envisioned for him. I want to exceed 20 minutes, but I can't if he doesn't work to execute better in defence. »
Precious Achiuwa
Percentage
Bounces
Season
Crew
GM
Minimum
Shots
3 points
LF
Off
Def
Early
pd
party
Int
bp
CT
Points
2020-21
MIA
61
12
54.4
0.0
50.9
1.2
2.2
3.4
0.5
1.5
0.3
0.7
0.5
5.0
2021-22
TOR
73
24
43.9
35.9
59.5
2.0
4.5
6.5
1.1
2.1
0.5
1.2
0.6
9.1
2022-23
TOR
11
21
40.5
19.2
84.8
1.8
5.3
7.1
1.4
1.6
0.2
1.2
0.6
9.2
Total
145
19
46.2
33.3
59.1
1.7
3.6
5.2
0.9
1.8
0.4
1.0
0.5
7.4