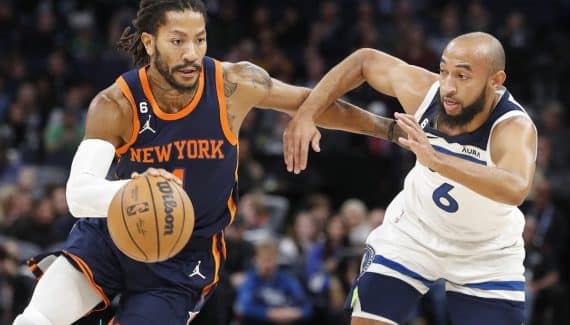 Since the 2017/2018 season, Derrick Rose donned the substitute costume. From Minnesota to Detroit via New York, he managed to transform himself into an excellent sixth man, regularly cited among the best in the league.
But this season, he is struggling to express himself, with only 6 points on average. And for good reason: he only plays 12 minutes per game, half his playing time last season. Tom Thibodeau doesn't always use it regularly, so he's confused.
"I am in the unknown"recognizes the 2011 MVP for the New York Post. "I try to stay focused, to talk to the guys, to give voice. I communicate on what I see on the floor. But yeah, that's new to me. »
The former All-Star from Chicago had however returned very motivated and lightened by ten kilos (on the recommendation of his coach), after a truncated last season due to ankle injuries. But that's not enough for the moment and he sometimes spends entire halves on the bench…
"I have to stay ready"he continues. "It forces me to evolve. In which direction ? Who can know… I take it as a challenge. »
For his part, Tom Thibodeau did not expand on the issue. For him, Drrick Rose lacks rhythm after having played only 26 matches last season and having undergone surgery. In addition, his playing time is logically less with the summer arrival of his friend Jalen Brunson.
"I think the role he's in will sort itself out," announces the coach, already not spoiled at the back with a Quentin Grimes who is struggling to take off, weighed down by injuries, and an Evan Fournier far from his best level. "Some matches he will play more, others less. »
Derrick Rose
Percentage
Bounces
Season
Crew
GM
Minimum
Shots
3 points
LF
Off
Def
Early
pd
party
Int
bp
CT
Points
2008-09
CHI
81
37
47.5
22.2
78.8
1.2
2.7
3.9
6.3
1.5
0.8
2.5
0.2
16.8
2009-10
CHI
78
37
48.9
26.7
76.6
0.8
2.9
3.8
6.0
1.2
0.7
2.8
0.4
20.8
2010-11

★

CHI
81
37
44.5
33.2
85.8
1.0
3.1
4.1
7.7
1.7
1.1
3.4
0.6
25.0
2011-12
CHI
39
35
43.5
31.2
81.2
0.7
2.7
3.4
7.9
1.3
0.9
3.1
0.7
21.9
2013-14
CHI
10
31
35.4
34.0
84.4
0.9
2.3
3.2
4.3
1.5
0.5
3.4
0.1
15.9
2014-15
CHI
51
30
40.5
28.0
81.3
0.7
2.5
3.2
4.9
1.2
0.7
3.2
0.3
17.7
2015-16
CHI
66
32
42.7
29.3
79.3
0.7
2.7
3.4
4.7
1.3
0.7
2.7
0.2
16.4
2016-17
NYK
64
33
47.1
21.7
87.4
1.0
2.8
3.8
4.4
1.3
0.7
2.3
0.3
18.0
2017-18 *
All Teams
25
17
43.5
23.3
87.0
0.5
0.9
1.4
1.5
0.6
0.3
1.4
0.2
8.4
2017-18 *
KEY
16
19
43.9
25.0
85.4
0.6
1.2
1.8
1.6
0.9
0.2
1.8
0.3
9.8
2017-18 *
MIN
9
12
42.6
16.7
100.0
0.3
0.3
0.7
1.2
0.2
0.4
0.8
0.0
5.8
2018-19
MIN
51
27
48.2
37.0
85.6
0.7
2.1
2.8
4.3
1.1
0.6
1.6
0.2
18.0
2019-20
TED
50
26
49.0
30.6
87.1
0.5
1.9
2.4
5.6
1.0
0.8
2.5
0.3
18.1
2020-21 *
All Teams
50
26
47.0
38.8
86.6
0.4
2.2
2.6
4.2
1.1
1.0
1.6
0.4
14.7
2020-21 *
NYK
35
27
48.7
41.1
88.3
0.4
2.5
2.9
4.2
1.1
0.9
1.4
0.4
14.9
2020-21 *
TED
15
23
42.9
33.3
84.0
0.4
1.5
1.9
4.2
1.1
1.2
1.9
0.3
14.2
2021-22
NYK
26
25
44.5
40.2
96.8
0.8
2.2
3.0
4.0
0.6
0.9
1.5
0.5
12.0
2022-23
NYK
10
13
40.6
39.3
100.0
0.4
1.7
2.1
2.0
0.6
0.5
1.2
0.2
6.6
Total
682
31
45.6
31.7
83.1
0.8
2.5
3.3
5.4
1.3
0.8
2.5
0.4
18.0