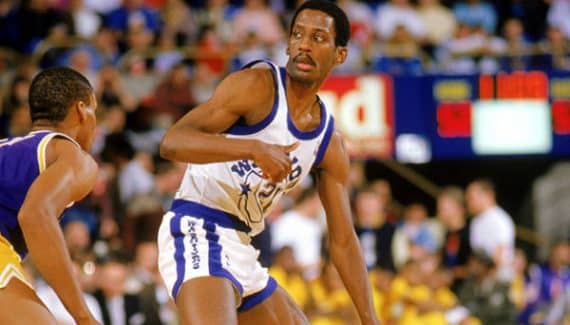 Author of a very decent career with an average of 12.8 points in 957 matches and even a participation in the All-Star Game in 1987, Eric "Sleepy" Floyd is best known for an evening in May 1987 and two NBA records.
"Everywhere I go, there are people talking to me about it. They were at the game or in front of the television, they may live in the Bay… they remember this game"he said, a few years ago, at Mercury News.
In Game 4 of the conference semi-final against the Lakers, the Warriors are badly embarked. Led 3-0 by Magic Johnson and Kareem Abdul-Jabbar, they are dominated 98-83 at the end of the third quarter. Los Angeles is therefore heading towards a problem-free qualification for the next round.
Except that in four minutes, the leader of Golden State will register 16 points. It catches fire, and the count of the following minutes is unreal, worthy of Kobe Bryant or Michael Jordan: 26 points in eight minutes, 34 in eleven!
"They talked a lot, trashtalked. At one point, I had had enough. »
Two NBA records that still stand
In almost ten minutes, he reversed the meeting and blew up the Lakers defense, yet well equipped to extinguish opposing scorers. "Pat Riley put Michael Cooper on me, he didn't do anything. He put Byron Scott on me, he didn't do anything. »
Magic Johnson, AC Green and Mychal Thompson will also try to stop him, but they can't. In the wake of his 51 points, the Warriors will win, but will be eliminated the next game.
"After the first baskets, it became instinctive. The team was behind me and the coach, George Karl, wasn't even calling a system anymore. He just wanted me to have the ball. Everything slowed down, I felt like I only had open shots, yet I put in complicated shots. »
This blow of heat, unthinkable when you know that he had not scored more than 19 points in the series, during the first round, brings him into another dimension.
He put his name in the history books with two playoff records. First that of the greatest number of points in a quarter with 29 units, then that of a half with 39 units.
Two performances that still hold up 33 years later (Kevin Durant was not far from the record for a half in 2019) despite the wave of scorers that crossed the league.