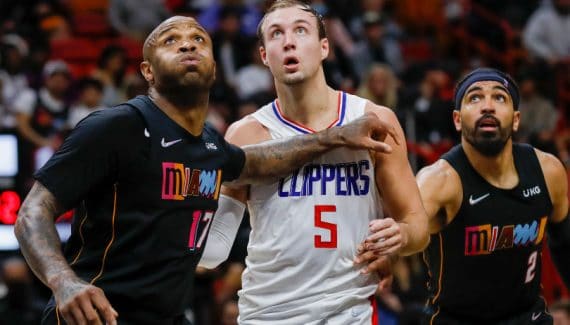 If Nicolas Batum and the Clippers started well, the Heat then quickly got their hands on the game. Even without Kyle Lowry, Erik Spoelstra's troops are developing their game, with Duncan Robinson back at his best, and who knows how to attack intervals and punish assists better and better.
With a major five that is going well, the gap gradually increases and Gabe Vincent's hot shot in the third quarter brings Florida's lead to +23 (85-62). But this Los Angeles team has become accustomed to closing wide gaps, and behind Luke Kennard and Amir Coffey, it will give Miami some scares.
The gap is thus only four points (117-113) with 34 seconds remaining but Jimmy Butler quietly ensures free throws, and the Heat finally secures its first place in the East.
WHAT YOU MUST REMEMBER
– Gabe Vincent's hot shot in the third quarter. In the absence of Kyle Lowry, Gabe Vincent takes the opportunity to show his qualities as a shooter. He thus caught fire with 6 successful 3-point shots in the third quarter (6/8 and 7/12 in the end), to allow his team to take off.
– Luke Kennard, the comeback man. The former Piston likes racing from the back. Again, he led the Clippers in a big comeback, scoring 16 of 23 points in the fourth quarter. But unlike the games in Philadelphia or Washington, it wasn't enough.
– Jimmy Butler and Miami do not tremble at free throws. The leader of Miami knows how to go on the line when necessary, and especially not to tremble there. Late in the game, as the Heat began to stutter, he calmed everyone down with four game-winning throws. He also finished at 16/16 in the exercise, and the Floridians also completed the match with a superb 26/27 which was precious not to be more afraid.
TOPS/FLOPS
✅ Jimmy Butler. Another boss match for the leader of Miami, who knew how to cause the faults to collect the points on the line. 26 points at 5/12 in shooting, 9 assists, 6 rebounds and 3 steals in the end, as well as throws in the "money time".
✅ Luke Kennard. In this private team of Kawhi Leonard and Paul George, he seems to have become the spark for the Clippers when things go wrong. Los Angeles needs points and the back seems free when his team is trailing and he has to chain the baskets to bring them back into the game.
⛔ Tyler Hero. He put an important 3-point in the "money time" but, without Kyle Lowry, he displayed a certain lack of composure which spun some cold sweats to the Florida fans. His two ball losses in the last two minutes could have been very expensive.
THE FOLLOWING
Miami (32-17): reception of the Raptors in back-to-back
LA Clippers (25-26): the "road trip" continues in Charlotte, tomorrow evening (7:00 p.m.)
Heat

/

121
Shots
Bounces
Players
Minimum
Shots
3 points
LF
O
D
T
pd
party
Int
bp
CT
+/-
Points
Rating

P.J. Tucker

29
6/8
2/4
4/4
0
5
5
2
5
2
2
0
+20
18
23

J. Butler

37
5/12
0/1
16/16
2
4
6
9
2
3
1
1
+12
26
37

B.Adebayo

36
7/14
0/0
6/7
2
10
12
4
1
1
3
0
+11
20
26

G.Vincent

33
8/15
7/12
0/0
1
3
4
3
3
0
3
0
-2
23
20

D.Robinson

26
6/9
4/7
0/0
0
2
2
2
2
0
1
0
+16
16
16

A.Holman

—
/////
/////
/////
—
—
—
—
—
—
—
—
—
—
0

H.Highsmith

—
/////
/////
/////
—
—
—
—
—
—
—
—
—
—
0

C. Martin

19
0/4
0/1
0/0
3
4
7
2
0
0
2
0
-13
0
3

D.Dedmon

12
1/4
0/1
0/0
2
5
7
1
3
0
1
1
-4
2
7

T. Herro

34
5/12
1/3
0/0
0
4
4
4
4
0
3
1
-4
11
10

Mr Strus

14
2/7
1/5
0/0
2
2
4
1
3
0
2
0
-1
5
3

Mr. Garrett

—
/////
/////
/////
—
—
—
—
—
—
—
—
—
—
0

N.Stauskas

—
/////
/////
/////
—
—
—
—
—
—
—
—
—
—
0
Total
40/85
15/34
26/27
12
39
51
28
23
6
18
3
121
Clippers

/

114
Shots
Bounces
Players
Minimum
Shots
3 points
LF
O
D
T
pd
party
Int
bp
CT
+/-
Points
Rating

N. Batum

22
5/10
2/7
0/0
0
1
1
2
1
0
0
0
-20
12
10

I. Zubac

23
2/4
0/0
2/4
0
3
3
2
1
0
2
1
-22
6
6

R.Jackson

21
5/11
0/3
3/4
0
1
1
3
2
0
1
0
-20
13
9

T. Mann

25
1/6
0/3
2/2
2
2
4
0
5
0
1
0
-11
4
2

A.Coffey

32
5/11
2/6
3/5
0
3
3
0
5
0
1
0
-14
15
9

J.Winslow

26
4/9
0/1
2/4
4
6
10
5
1
1
1
1
+15
10
19

W.Gabriel

—
/////
/////
/////
—
—
—
—
—
—
—
—
—
—
0

I.Hartenstein

16
4/7
0/0
0/1
2
1
3
1
2
0
2
0
+8
8
6

X.Moon

—
/////
/////
/////
—
—
—
—
—
—
—
—
—
—
0

E.Bledsoe

27
7/15
0/4
5/6
0
4
4
6
1
3
3
0
+13
19
20

L. Kennard

31
7/14
5/11
4/4
1
5
6
3
1
1
1
0
+7
23
25

B.Boston Jr.

12
1/4
0/0
2/2
0
1
1
0
2
1
1
1
+5
4
3

J.Scrubb

4
0/1
0/0
0/0
0
1
1
0
0
1
0
0
+4
0
1
Total
41/92
9/35
23/32
9
28
37
22
21
7
13
3
114