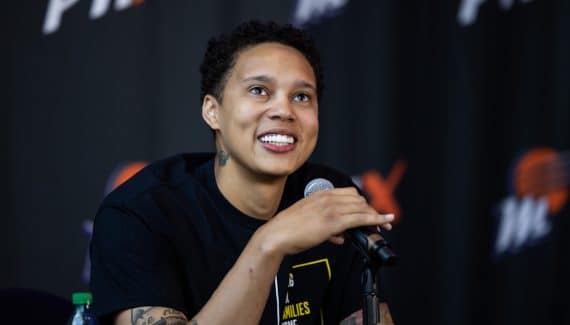 Almost five months after being released from a Russian prison, Brittney Griner spoke to reporters for the first time since her return to American soil, on the occasion of the franchise's "Media Day". She first started her press conference by thanking the media for their coverage of the case.
"It's a little different from a basketball press conference, there are a lot of journalists here today" found Brittney Griner. "Thank you all for exposing this case so much to the media, putting the light on me and my family, to bring me home. This blanket was really needed".
Incarcerated for 10 months in Russia, after being arrested at Moscow airport for drug possession in February 2022 and then sentenced to nine years in prison, she was finally repatriated to the United States as part of a prisoner exchange with Russia.
Photos of loved ones so as not to give up
"You know, hard times are no stranger to me. In all honesty, you always face adversity throughout your life, and this one was pretty big" continued the Mercury star. "When I lost hope, I looked at pictures of my family. Just seeing their faces made me feel good. When you think about giving up, you look at the pictures and it brings you back to reality. You know what awaits you. You are waiting to find your family, your loved ones in a safe place ".
The player also stressed the importance of continuing to fight for others wrongfully imprisoned, and she is driven by the idea of ​​leaving no one behind. One thinks of the American soldier Paul Whelan, still detained in Russia, and whose repatriation was negotiated in the Griner affair, but in vain.
"No one should be in the conditions that I experienced or that some still experience" she repeats. "I hope everyone will continue to raise awareness and fight for everyone to come home".
She will never play in a foreign league again
At the time of her arrest, Brittney Griner was preparing to join her club in Russia. Like many WNBA players, Griner plays part of the year in Europe for financial reasons. But, unsurprisingly, the Mercury player has decided to give up on the foreigner.
"I can say that as far as I am concerned, I will never play abroad again, unless I represent my country at the Olympics" insisted Brittney Griner. "If I'm part of Team USA, it will be the only time I will leave American soil". And it will be in France possibly, in 2024.
From now on, Brittney Griner has her eyes fixed on the WNBA season, which begins on May 19. She is focused on getting back in shape, as the transition from being a prisoner in Russia to being a top athlete in the space of a few months is a real challenge.
"It's still a process, you know, just the little things. As an athlete you always want to get back to your old level" explained Brittney Griner. "As soon as I resumed, I wanted to become the player that I was. Everyone tells me to be patient and that it will take time. But it's the hardest thing for a professional athlete to do.".
The Mercury will play their first pre-season game on May 9 against the Storm.