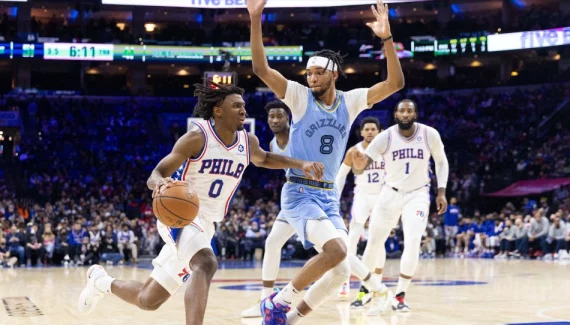 Tyrese Maxey laughs. Joel Embiid absent, he has the honors of the press conference, and he is seated next to Andre Drummond. While waiting for questions, the young point guard from Philadelphia looks at the stats sheet, and he discovers that his neighbor has taken 23 rebounds! He can't come back. And here he begins to imitate Drummond who takes rebounds and scores near the circle.
Author of the last four points of the match to allow the Sixers to snatch victory against Memphis, Maxey signed one of his best career matches tonight with 33 points, 8 assists and downright 4 blocks. Joel Embiid absent, he was the first option in attack, and he played eye to eye with Ja Morant.
"He's sitting next to me, and I don't want to compliment him too much, otherwise he'll get a big head" also laughs Drummond. "But he's an incredible basketball player, and already a super leader for his age. He has a lot on his shoulders in this position, and he leads an entire team. He's a great player, and I'm glad he's my playmaker."
"I try to attract attention so that I can bring the balls out on the shooters"
Ben Simmons absent, Tyrese Maxey will have taken several weeks to find the right balance in the lead. Leader-scorer, he constantly attacked the defense of Memphis, in a style à la Ja Morant. But we also saw him looking for his teammates, involving them and giving them confidence. A real game from a real playmaker, whose finishing near the circle was invaluable late in the game.
"I work on it every day" he explains. "I work on different finishes. Same as warming up before matches. Right now, I'm trying to get attention so I can get the balls out on the shooters or send lob passes for a guy like Andre. When I penetrate, I destabilize the defense and I can serve the shooters and Andre can dunk, or Joel can lay-up. "
For him, his eight assists are nothing exceptional. The defense dictates his game. "They prevented me from finishing in the circle, and when I attract two or three defenders, I get the ball out or I do a lob pass" repeat Maxey. "George, Seth, Danny… put in and then the defense doesn't know whether to stay on me or stay on the shooters. When it is like that, there are several solutions. "
As the games go by, Maxey is making a name for himself in the league, and he's about to become a fan favorite. And he appreciates.
"You know, our fans are really great. They are there every night. Tonight was still full, and regardless of the opponent… Every time I look at the stat sheet, it's full and it's a great feeling to play here in Philadelphia. You know, I was hot… Before the match, Doc had reminded us that they had demolished us at their place. They had bumped into us, and Joel was already gone. They had done what they wanted, and tonight, we didn't want that to happen again. So I'm proud of our guys! "
Tyrese Maxey
Percentage
Bounces
Season
Team
GM
Minimum
Shots
3 points
LF
Off
Def
Early
pd
party
Int
bp
CT
Points
2020-21
PHL
61
15
46.2
30.1
87.1
0.2
1.5
1.7
2.0
1.3
0.4
0.7
0.2
8.0
2021-22
PHL
42
36
46.3
40.5
86.0
0.4
3.1
3.5
4.7
2.1
0.6
1.2
0.5
16.4
Total
103
24
46.3
36.3
86.4
0.3
2.2
2.4
3.1
1.6
0.5
0.9
0.3
11.4