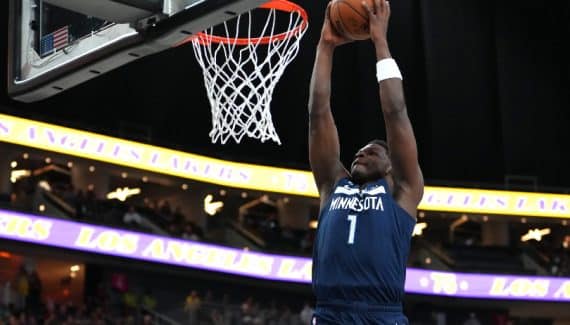 After his stint in hospital, Karl-Anthony Towns has just returned to training with Wolves. It is therefore without him that Rudy Gobert made his debut in Minnesota.
Rather serious debut (5 points at 2/4 and 12 rebounds in 17 minutes) for the Frenchman, against the Lakers deprived of their announced holders, who was whistled for offensive faults on a screen or in the fight for the rebound , but whose activity in the sectors is precisely what emerged from this first meeting with the Wolves.
As announced by Chris Finch, D'Angelo Russell should thus be the first beneficiary of the French screens, but we have also seen Jordan McLaughlin and Anthony Edwards also benefit from it.
The latter, whose speech on the French has changed a lot, is also particularly impatient to be able to evolve with the duo Towns / Gobert on the ground.
"We just worked on my passes for the alley-oop" he explains about the tricolor pivot. "I had never thrown alley-oops before, so I worked on it… It's very effective. With him going to the circle, and KAT getting out of the way, teams won't know how to defend because it creates highways to the circle. »
Rudy Gobert
Percentage
Bounces
Season
Crew
GM
Minimum
Shots
3 points
LF
Off
Def
Early
pd
party
Int
bp
CT
Points
2013-14
UTH
45
10
48.6
0.0
49.2
1.1
2.3
3.4
0.2
1.3
0.2
0.7
0.9
2.3
2014-15
UTH
82
26
60.4
0.0
62.3
3.2
6.2
9.5
1.3
2.1
0.8
1.4
2.3
8.4
2015-16
UTH
61
32
55.9
0.0
56.9
3.4
7.5
11.0
1.5
2.7
0.7
1.9
2.2
9.1
2016-17
UTH
81
34
66.1
0.0
65.3
3.9
8.9
12.8
1.2
3.0
0.6
1.8
2.6
14.0
2017-18
UTH
56
32
62.2
0.0
68.2
3.0
7.8
10.7
1.4
2.7
0.8
1.9
2.3
13.5
2018-19
UTH
81
32
66.9
0.0
63.6
3.8
9.0
12.9
2.0
2.9
0.8
1.6
2.3
15.9
2019-20
UTH
68
34
69.3
0.0
63.0
3.4
10.1
13.5
1.5
3.2
0.8
1.9
2.0
15.1
2020-21
UTH
71
31
67.5
0.0
62.3
3.4
10.1
13.5
1.3
2.3
0.6
1.7
2.7
14.3
2021-22
UTH
66
32
71.3
0.0
69.0
3.7
11.0
14.7
1.1
2.7
0.7
1.8
2.1
15.6
Total
611
30
65.3
0.0
63.8
3.3
8.3
11.7
1.3
2.6
0.7
1.7
2.2
12.4