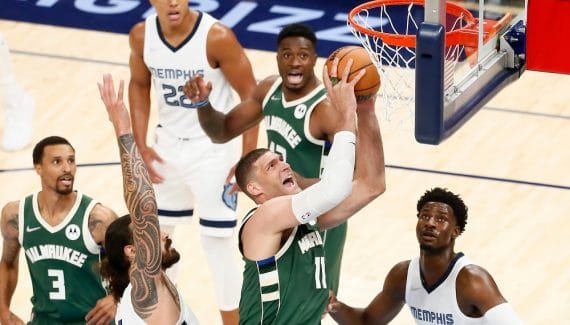 If Bobby Portis warned his teammates to be serious and not relax until the All-Star Game is cut, it's not only because competition in the East is fierce, but also because the Bucks are less sovereign and dominant this season.
No doubt there is management as well as another way of approaching the regular season, with less appetite perhaps, after the title. But there is another element that should not be overlooked: the absence of Brook Lopez.
The pivot only played the first match of the season, before being hampered by his back and finally having surgery in early December. And without him, Milwaukee is simply less strong.
"It's extremely complicated"regrets Khris Middleton for The Athletic. "The frustration, linked to this piece that we miss, is starting to be felt in the group. We all realized what Brook brings to our team. Whether it's his versatility, his size, his defense. We are tired of this long period without him. We can't wait to see him again. We miss him. "
With Brook Lopez, the Bucks are a better team on rebound or defense, since the former Nets is valuable in his placements, especially on "drop coverage", defensive coverage after pick-and-roll, where he is very good.
"We do our best to manage one player, where Brook eats two or three"
The pivot, sometimes in a shadow role, is therefore an essential link in the Mike Budenholzer system.
"It's harder without him", recognizes Pat Connaughton. "Without him, players like Donte DiVincenzo, Jrue Holiday, Khris or me have to fight with the big guys. We do our best to manage one player, where Brook eats two or three. We have to adapt to that and we have to be a little smarter. "
According to our colleagues from The Athletic, the Bucks expect to see Brook Lopez again before the end of the regular season. He should thus play a few games before the playoffs and it is a return that will do good for the morale of the champion troops in 2021.
"Brook is one of the most altruistic teammates in an NBA where some are chasing statistics," continues and concludes Pat Connaughton. "I don't think any players on our team do that, but he clearly doesn't. He does his job and for him, it doesn't matter who takes the rebound, him or another, as long as it's our team, it's fine with him. "
Shots
Bounces
Players
GM
Minimum
Shots
3 points
LF
Off
Def
Early
pd
bp
Int
CT
party
Points
Giannis Antetokounmpo
43
32.7
53.6
27.7
72.2
1.8
9.5
11.3
6.0
3.5
1.0
1.4
3.3
28.9
Khris Middleton
41
32.0
44.1
38.2
88.3
0.6
5.0
5.6
5.2
3.1
1.2
0.3
2.4
19.6
Jrue Holiday
40
32.7
49.5
39.2
75.5
1.0
3.7
4.7
6.5
2.7
1.5
0.6
1.9
17.9
Bobby Portis
44
28.8
47.6
39.9
76.2
2.8
6.4
9.2
1.2
1.5
0.7
0.8
2.7
14.9
Grayson Allen
44
28.3
42.4
39.2
87.0
0.6
3.0
3.5
1.5
0.6
0.8
0.3
1.4
11.8
Pat Connaughton
50
27.4
47.2
40.8
81.1
0.7
3.7
4.4
1.3
0.6
1.0
0.3
1.3
10.2
Demarcus Cousins
17
16.9
46.6
27.1
81.6
1.4
4.4
5.8
1.1
0.9
0.9
0.5
2.7
9.1
Jordan Nwora
40
19.5
41.0
37.2
76.2
0.6
3.2
3.8
1.0
1.0
0.5
0.3
1.1
8.2
Brook Lopez
1
28.2
33.3
50.0
0.0
2.0
3.0
5.0
0.0
0.0
1.0
3.0
3.0
8.0
george hill
41
25.5
43.6
31.6
96.0
0.9
2.4
3.2
2.5
0.9
0.8
0.1
1.4
7.0
Donte Divincenzo
14
20.0
30.9
27.6
91.3
1.1
2.6
3.7
1.7
1.5
0.7
0.2
1.7
6.8
Wesley Matthews
24
19.9
42.9
35.7
60.0
0.6
1.5
2.0
0.7
0.4
0.5
0.2
2.0
5.8
Rodney Hood
37
15.1
35.5
31.6
92.9
0.3
1.4
1.8
0.8
0.2
0.3
0.1
0.7
3.4
Sandro Mamukelashvili
28
10.2
43.0
36.8
75.0
0.9
1.0
1.9
0.5
0.3
0.2
0.2
0.6
3.2
Lindell Wigginton
3
3.9
100.0
100.0
0.0
0.0
0.3
0.3
0.0
0.3
0.3
0.0
0.3
3.0
Thanasis Antetokounmpo
31
11.0
46.3
9.1
62.5
1.0
1.5
2.5
0.6
0.6
0.4
0.3
1.8
3.0
justin robinson
17
11.6
31.6
27.0
100.0
0.1
0.6
0.8
1.2
0.6
0.5
0.0
1.0
2.8
Semi Ojeleye
19
15.8
23.5
23.1
81.8
1.3
1.7
3.1
0.3
0.3
0.3
0.3
1.4
2.6
Ja'vonte Smart
13
12.3
25.6
22.2
83.3
0.3
1.2
1.5
1.1
0.7
0.3
0.2
0.8
2.4
Georgios Kalaitzakis
9
5.3
45.5
50.0
44.4
0.4
0.4
0.9
0.0
0.4
0.1
0.1
0.9
1.8
Langston Galloway
3
16.2
7.7
0.0
0.0
0.7
2.7
3.3
2.3
0.3
0.3
0.0
0.7
0.7
Javin Delaurier
1
2.8
0.0
0.0
0.0
0.0
1.0
1.0
0.0
0.0
1.0
0.0
1.0
0.0
Luke Kornet
1
3.0
0.0
0.0
0.0
1.0
0.0
1.0
0.0
0.0
0.0
0.0
1.0
0.0
Jeff Dowtin
1
3.0
0.0
0.0
0.0
0.0
0.0
0.0
0.0
0.0
0.0
0.0
0.0
0.0