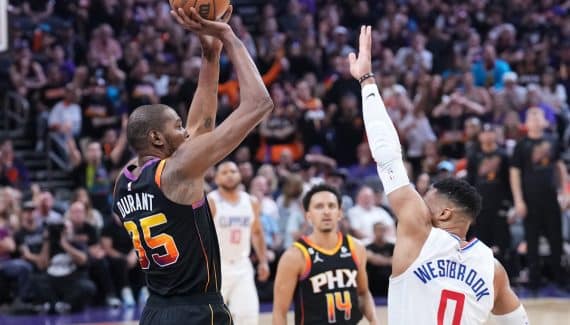 We thought they were angry and yet, it is not. Time has eased the anger and frustration of a 2016 split, and today Kevin Durant And Russell Westbrook greet each other warmly in the hallways of the halls, and the Suns winger is the first to defend him. The last time was just two days ago after Westbrook compiled 37 points, 6 rebounds and 4 assists in Game 4 to shake up the Suns.
" People are always going to criticize you when you succeed and do your thing for so long » explained Kevin Durant. "But Russ has been resilient his whole life. He comes to work, he doesn't say much. He just plays basketball. When he retires, people will really be able to tell the truth about his game. Right now the fun thing is making jokes about Russ. But the way he's been playing since joining the Clippers shows everyone who he really is. »
This is the first time that the two have met in the playoffs, and we have seen them chambering on the field, on free throws. Nothing mean. "Trash talking", and besides Durant assures that there was never any confusion between them.
The "cupcake" episode
"I don't think we've ever been cold"assures Durant to The Ringer. "I don't think he was trying to overshadow me either. I never really thought that anything Russ did was directed at me.". The journalist then reminds him of the "cupcake" trick, used by Westbrook in 2016 to comment on the departure of his former teammate.
"Yeah, even that…I don't believe it was directed at me, and I'll leave it at that." I don't think we've ever had a problem or even a fight. Because a fight is deep, and I never had the feeling that he had been hurt. I just think he had the opportunity to have a contract at the maximum, to be MVP and to have his own team. I thought he handled it very well, and he seemed happy that he did. »
Words that are similar to those made by Westbrook before the start of the series: "I think people think it's still war between us or something. But there is no war, in any case. I think it's more of a story for the media, to get people talking. I have nothing but respect for him, what he has done with his career, his ability to bounce back from a big injury. There is really no problem between us, even if he knows that I will fight, and that I know that he will fight too. That's all ".
Durant even assures that he can call Westbrook at any time. "If I need anything from Russ, and I need to contact him, I'm sure he'll text me back… Between us, there's nothing but warm hugs." »
Tonight, this hug could be more frank than usual if the Suns were to eliminate the Clippers.