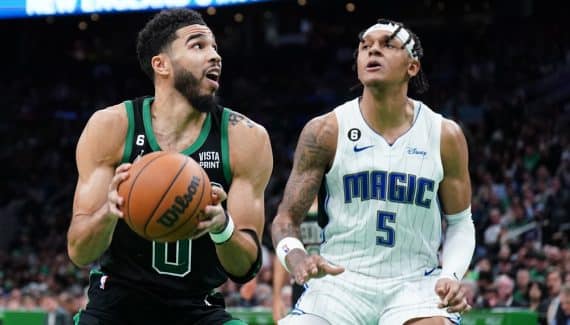 If Sunday Jayson Tatum was absent Sunday for the second round against the Magic, he was indeed there Friday to challenge Paolo Banchero. The two follow each other closely, united in particular by their common passage on the Duke campus.
Two brothers from Duke
Former "Blue Devil", Tatum specifically warned his younger brother of the reputation that may precede him in the Great League. Expect everything from media overexposure to vindictive fans…
"He told me that people wouldn't hesitate to run into me! It's one of the things I have the hardest time getting used to, and even being fully aware of." admits Banchero in the Boston Globe. "Being a rookie and with my character, I don't think about it, but I understood now that I had a target behind my back. When I play against big players or when we play against big teams, there is this extra motivation to stop me or make my life difficult in general. That's what Jayson told me from the start, even before I arrived in the NBA. It helped me a lot. »
In contact with Tatum since he had given his agreement to Duke, Banchero was able to exchange several times with his eldest. The latter returning the elevator to him with small messages when he could follow the matches of the Blue Devils. Tatum was even there, in the flesh, for the game against Boston College last February, a meeting that boosted their growing friendship.
"I see in him someone who follows the same path as me", says Tatum. "He went through Duke of course, knowing he was only going to do a year in college, and he ended up No. 1 in the Draft. Not so long ago, I was in these situations, I know how this transition happens. And we are thrown a lot of things in the face of a blow! »
Another common point between the two men, recently formalized, Banchero and Tatum are with the same sponsor: Jordan Brand.
A rookie of the year, an MVP?
But, in any case, with 22 points, 7 rebounds and 4 assists on average for his rookie season, Banchero is above all much better than Tatum, who was at a low 14 points, 5 rebounds his very first season, in a rich rotation in Boston.
The Italian-American enforcer is the clear favorite for rookie of the year. Several times decisive for his Magic, the native of Seattle already knows the overruns well, from his first campaign!
"He has more responsibilities than I had in my first year," admits Tatum. "He's still young so I just want to be able to help him, if I can give him my advice…"
It is in any case in this healthy competition between the two men that Tatum (30 points, 8 rebounds, 4 assists) also achieves a beautiful season, worthy of the title of MVP. This is in any case the opinion of many specialists in the NBA universe, freshly questioned by our colleague from ESPN (with the family name of ours), Tim Bontemps.
" It's crazy ", Banchero concludes. "I have been since he was in high school. I've watched him a lot with Duke and he's at the top of his game right now. He just shows all the work he's put in all these years, it doesn't happen overnight. It's had its ups and downs but it's something that drives me. When we play against each other, I will always attack him, because I know he will inevitably attack me. »
Their duel of October 23 (106-100 for Boston)
Jayson Tatum
Percentage
Bounces
Season
Team
GM
Minimum
Shots
3 points
LF
Off
Def
Early
pd
party
Int
bp
CT
Points
2017-18
BOS
80
31
47.5
43.4
82.6
0.6
4.4
5.0
1.6
2.1
1.0
1.4
0.7
13.9
2018-19
BOS
79
31
45.0
37.3
85.5
0.9
5.2
6.0
2.1
2.1
1.1
1.5
0.7
15.7
2019-20
BOS
66
34
45.0
40.3
81.2
1.0
6.0
7.0
3.0
2.1
1.4
2.4
0.9
23.4
2020-21
BOS
64
36
45.9
38.6
86.8
0.8
6.6
7.4
4.3
1.9
1.2
2.7
0.5
26.4
2021-22
BOS
76
36
45.3
35.3
85.3
1.1
6.9
8.0
4.4
2.3
1.0
2.9
0.6
26.9
2022-23
BOS
29
37
47.0
35.8
86.1
1.2
7.0
8.2
4.1
2.2
1.1
2.8
0.9
30.2
Total
394
34
45.8
38.0
84.6
0.9
5.9
6.8
3.1
2.1
1.1
2.2
0.7
21.6