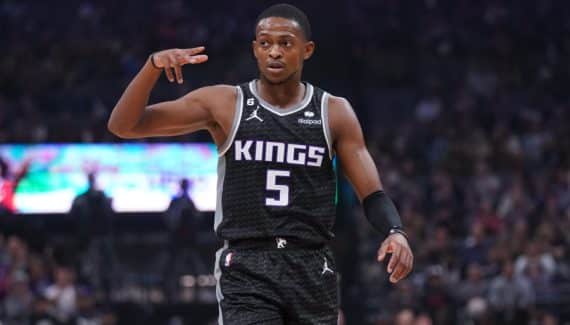 Two weeks ago, we learned that De'Aaron Fox joined Klutch Sports. Rich Paul's agency, which notably represents LeBron James, is renowned for having, in the past, obtained transfers to certain All-Stars who had requested them, such as Anthony Davis or Ben Simmons.
So, to allay Kings fan fears and potential theories of a future transfer request orchestrated by the most ruthless of agents in these cases, the Kings point guard, who understands very well that " when a sportsman with notoriety makes a major change, speculation is always rife ", wanted to justify his decision.
" I love Sacramento. This choice had nothing to do with any desire to request a transfer. It was a personal choice, focused on the business aspect of basketball. [Klutch Sports] will help me in areas in which I have never been supported before. It was a desire to reach a higher level » he thus added, following a long interview with Bleacher Report. " But I love Sacramento. I'm attached to the idea of ​​staying at the same club for a long time, especially when it's the one that drafted me. […] If I can help this team reach the playoffs, or even win a title one day in my career, I have a feeling that nothing will top that feeling. It would be the biggest accomplishment of my career. »
Better representation, to accompany the best period of his career
Author of his best career basketball (25.1 points at 53% in shots, 4.9 rebounds and 6.1 assists), in a team that has a legitimate chance of qualifying for the playoffs, "Swipa" feels that the tide can finally turn for him and his club, and therefore now also wants to capitalize off the pitch.
" When your team wins, the perception of you changes "he notes then. " It's not disrespecting other agencies by saying that, but [Klutch Sports] is a benchmark, both for basketball and for business opportunities off the court. In all areas, they do a very good job. I felt that in every way it was an improvement. »
A " improvement " the effects of which he hopes to feel in one particular area: national visibility, as he approaches the All-Star Game for the first time in his career while evolving within one of the smallest league markets, absent from the playoffs since 2006.
" This is one of the main reasons why I changed representation. Even in a small market, I think they have the means to help me expand my visibility. […] As soon as Klutch is mentioned, people talk about it. What represents added value and another reason to make this change".
The former leader of Kentucky has already identified a space that he had not really exploited until now, but which is crucial today in the construction of the image of an athlete: that social networks.
" I understand the importance and impact of social media in this generation. Twitter, Instagram and Tiktok are the biggest platforms right now "Concludes the leader, very discreet online since the start of his career, but who has just announced the upcoming arrival of her first child. " From my point of view, it's about communicating with the fans, allowing them to know aspects of my life that I present to them. It helps create a connection with them, and I think that's an important component of online identity. »
De'Aaron Fox
Percentage
Bounces
Season
Crew
GM
Minimum
Shots
3 points
LF
Off
Def
Early
pd
party
Int
bp
CT
Points
2017-18
BAG
73
28
41.2
30.7
72.3
0.5
2.3
2.8
4.4
2.2
1.0
2.4
0.3
11.6
2018-19
BAG
81
31
45.8
37.1
72.7
0.5
3.2
3.8
7.3
2.5
1.6
2.8
0.6
17.3
2019-20
BAG
51
32
48.0
29.2
70.5
0.7
3.2
3.8
6.8
2.8
1.5
3.1
0.5
21.1
2020-21
BAG
58
35
47.7
32.2
71.9
0.6
2.9
3.5
7.2
2.9
1.5
3.0
0.5
25.2
2021-22
BAG
59
35
47.3
29.7
75.0
0.4
3.5
3.9
5.6
2.9
1.2
2.9
0.4
23.2
2022-23
BAG
17
32
53.0
38.5
82.0
0.5
4.4
4.9
6.1
2.8
1.2
2.7
0.4
25.1
Total
339
32
46.5
32.4
73.0
0.5
3.1
3.6
6.2
2.7
1.3
2.8
0.4
19.4