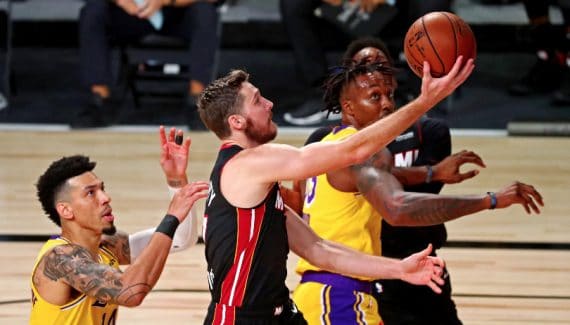 As you might expect, Goran Dragic did not leave the Raptors to stay at Spurs following the exchange between the two teams made before the "trade deadline".
The Slovenian leader has indeed negotiated his departure from San Antonio, announces The Athletic, via a "buyout" and will thus become a particularly attractive target for many teams.
Goran Dragic has agreed to a contract buyout with the Spurs and is entering free agency, sources tell @TheAthletic @Stadium. A slew of teams will now pursue the 14-year veteran.

— Shams Charania (@ShamsCharania) February 15, 2022
According to Adrian Wojnarowski, the Lakers and the Warriors, inactive during the "trade deadline", are thus part of the formations determined to recover it. But they will be far from the only ones on the spot since the Clippers, the Bulls, the Nets but also the Bucks would be interested.
Even at 35, and despite a long period without playing, Goran Dragic, who has been training on the Miami side for two months, still enjoys a very good rating in the NBA. His playoff campaign in the Orlando "bubble" to end the 2019/20 season has visibly marked the spirits.
The track that led Goran Dragic to Dallas, on the other hand, took the lead in the wing with the arrival of Spencer Dinwiddie and while Jalen Brunson provides support for Luka Doncic. The two Slovenian players had however expressed the wish to be able to evolve together one day in the NBA. For the moment, it does not take the way.
Buyout : amicable breach of contract. The player is released from his contract with severance pay which can reach the totality of the rest of his contract. The player then becomes a free agent, and can sign elsewhere.
Goran Dragic
Percentage
Bounces
Season
Team
GM
Minimum
Shots
3 points
LF
Off
Def
Early
pd
party
Int
bp
CT
Points
2008-09
PHX
55
13
39.3
37.0
76.9
0.6
1.3
1.9
2.0
1.6
0.5
1.3
0.1
4.5
2009-10
PHX
80
18
45.2
39.4
73.6
0.5
1.7
2.1
3.0
1.6
0.6
1.6
0.1
7.9
2010-11*
All Teams
70
18
43.5
36.1
62.4
0.5
1.5
2.0
2.9
1.8
0.7
1.7
0.1
7.5
2010-11*
PHX
48
18
42.1
27.7
60.8
0.5
1.3
1.8
3.1
1.9
0.8
2.0
0.1
7.4
2010-11*
HOO
22
17
47.2
51.9
66.7
0.6
2.0
2.6
2.5
1.6
0.6
1.0
0.2
7.7
2011-12
HOO
66
27
46.2
33.7
80.5
0.8
1.7
2.6
5.3
2.5
1.3
2.4
0.2
11.7
2012-13
PHX
77
34
44.3
31.9
74.8
0.8
2.3
3.1
7.4
2.8
1.6
2.8
0.3
14.7
2013-14
PHX
76
35
50.5
40.8
76.0
0.9
2.3
3.2
5.9
2.7
1.4
2.8
0.3
20.3
2014-15*
All Teams
78
34
50.1
34.7
77.4
1.0
2.5
3.5
4.5
2.5
1.0
2.2
0.2
16.4
2014-15*
PHX
52
33
50.1
35.5
74.6
1.0
2.6
3.6
4.1
2.3
1.0
2.2
0.2
16.2
2014-15*
MIA
26
35
50.2
32.9
80.8
1.2
2.3
3.4
5.4
2.9
1.1
2.3
0.2
16.6
2015-16
MIA
72
33
47.7
31.2
72.7
0.8
3.1
3.9
5.8
2.6
1.0
2.6
0.2
14.1
2016-17
MIA
73
34
47.5
40.5
79.0
0.9
3.0
3.8
5.8
2.7
1.2
2.9
0.2
20.3
2017-18
MIA
75
32
45.0
37.0
80.1
0.7
3.4
4.1
4.8
2.4
0.8
2.2
0.2
17.3
2018-19
MIA
36
28
41.3
34.8
78.2
0.6
2.5
3.1
4.8
2.3
0.8
2.0
0.1
13.7
2019-20
MIA
59
28
44.1
36.7
77.6
0.5
2.7
3.2
5.1
2.1
0.7
2.4
0.2
16.2
2020-21
MIA
50
27
43.2
37.3
82.8
0.5
2.9
3.4
4.4
2.3
0.7
2.4
0.2
13.4
2021-22
TOR
5
18
38.2
28.6
100.0
0.4
2.4
2.8
1.8
1.6
1.0
0.2
0.2
8.0
Total
872
28
46.2
36.4
76.7
0.7
2.4
3.1
4.8
2.3
1.0
2.3
0.2
13.9