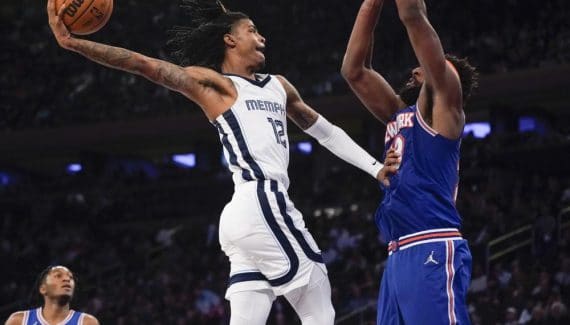 In the last quarter, Julius Randle approached the bench of the Grizzlies. Desmond Bane quickly pushed him away. The two players exchanged a few words before being separated and each taking a technical foul.
At the end of the meeting, very frustrated, the interior of the Knicks will even be expelled for a second technical fault, after a fault collected for having pushed Jaren Jackson Jr.
Since Ja Morant's arrival in Memphis, the Grizzlies have managed to progress, before settling on the podium in the West this season, displaying a fighting mentality. Now that they are among the best teams in the league, they have no intention of lowering their tone.
"We are not hiding"explains the playmaker at ESPN. "We let everyone know we're here. We're going to play hard, we're going to try to win and if you don't like it, so be it. "
"If you want to play this game, we'll do it, that's fine with us"
Taylor Jenkins players love trashtalking and if a team or players want to get in on the action, the Grizzlies are ready and willing to respond.
"We are known"continues Jaren Jackson Jr. "Everyone knows that we play like that, with energy and intensity. We love that. That's how we have fun, when it's a fight. If you want to play that game, we'll do it, that's fine with us. It's never personal, I don't care who talks to me. I'll tell him how I feel. "
And when we slipped to Ja Morant that this match at Madison Square Garden was broadcast on ESPN, the All-Star did not hesitate to give a piece, since last week, the chain had deprogrammed a San Antonio – Memphis to put Miami–New York instead. Before singing the praises of Jaren Jackson Jr.
"I hope everyone can hear me: the defender of the year is sitting next to me. We were on ESPN tonight and I hope you hear what I'm talking about here. He deserves recognition for his defensive work. There are few interiors who can do as many good things as him, in attack as in defense. He defended on Giannis Antetokounmpo, Nikola Jokic, tonight Julius Randle. He can go outside. And not everyone scores against him. "
No doubt, Ja Morant and the Grizzlies are full of confidence and they want to show it to the whole league.
Shots
Bounces
Players
GM
Minimum
Shots
3 points
LF
Off
Def
Early
pd
bp
Int
CT
party
Points
Ja Morant
40
33.3
49.1
35.4
76.3
1.4
4.5
6.0
6.8
3.5
1.3
0.4
1.4
26.4
Dillon Brooks
21
27.9
42.6
32.7
88.9
0.8
2.5
3.3
2.7
1.8
1.3
0.2
3.3
18.4
Desmond Bane
49
30.2
47.1
42.0
89.4
0.5
3.8
4.3
2.4
1.5
1.1
0.4
2.4
18.1
Jaren Jackson, Jr.
52
27.9
41.8
31.4
79.6
1.4
4.4
5.8
1.1
1.8
1.0
2.3
3.4
16.4
Brandon Clarke
38
18.5
65.5
22.2
69.7
1.9
3.2
5.1
1.3
0.5
0.5
1.1
1.6
9.9
De'anthony Melton
44
23.0
38.1
32.0
69.6
1.0
3.5
4.5
2.7
1.5
1.6
0.6
1.8
9.7
Tyus Jones
46
21.0
46.8
38.3
92.1
0.3
2.4
2.7
4.2
0.8
0.9
0.0
0.4
8.1
Kyle Anderson
40
22.4
43.6
35.1
65.6
0.9
4.3
5.3
2.6
1.0
1.1
0.6
1.5
8.0
Zaire Williams
33
21.1
40.5
24.6
86.4
0.3
1.5
1.8
0.8
0.6
0.5
0.2
1.8
6.8
steven adams
49
26.1
51.9
0.0
57.3
4.3
5.1
9.4
3.0
1.6
1.0
0.7
1.7
6.6
John Konchar
45
18.5
50.3
40.8
60.6
1.2
3.3
4.5
1.4
0.4
0.7
0.3
1.3
4.7
Xavier Tillman, Sr.
38
13.3
44.4
17.6
64.6
1.2
1.8
3.0
1.1
0.7
1.1
0.4
1.3
4.5
Sam Merrill
6
9.6
33.3
30.4
50.0
0.2
1.0
1.2
0.7
0.3
0.0
0.0
0.5
4.2
Jarrett Culver
23
9.8
41.9
28.6
52.4
0.3
1.3
1.6
1.0
0.4
0.6
0.1
1.1
4.0
Killian Tillie
31
13.7
36.5
34.2
62.5
0.6
1.1
1.7
0.6
0.4
0.7
0.5
1.7
3.7
Santi Aldama
27
10.2
38.1
10.3
60.0
0.9
1.5
2.4
0.5
0.3
0.1
0.3
1.0
3.3
Dakota Mathias
6
2.7
33.3
33.3
0.0
0.0
0.3
0.3
0.2
0.0
0.2
0.0
0.2
1.0
Shaq Buchanan
2
4.9
25.0
0.0
0.0
0.5
0.5
1.0
1.0
1.0
0.5
0.0
0.5
1.0
Tyrell Terry
2
1.5
100.0
0.0
0.0
0.0
0.0
0.0
0.0
0.0
0.0
0.0
0.5
1.0
Daquan Jeffries
3
2.9
50.0
0.0
0.0
0.0
0.7
0.7
0.3
0.0
0.0
0.0
0.3
0.7
Yves Pons
7
3.2
33.3
100.0
0.0
0.3
0.4
0.7
0.0
0.0
0.0
0.0
0.3
0.4
Jon Teske
3
2.6
0.0
0.0
0.0
0.0
0.7
0.7
0.3
0.0
0.3
0.0
0.3
0.0
Xavier Sneed
2
3.8
0.0
0.0
0.0
0.5
0.5
1.0
0.0
0.0
0.0
0.0
1.0
0.0