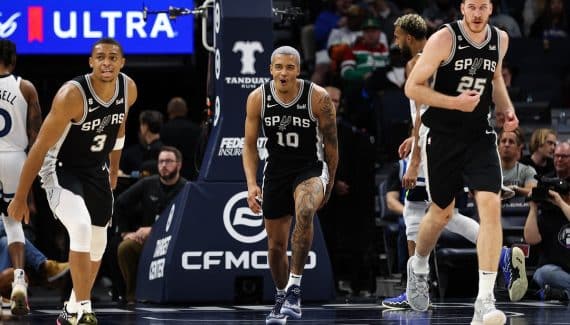 " I told them after the game that I wish they weren't so selfish, that 37 assists wasn't enough. They're so young, it took them seconds to realize it was a joke. »
It was with these amusing words that Gregg Popovich spoke about his team on Monday, after an authoritative victory on the floor of Wolves (115-106), the third in four matches in this young 2022/23 season.
The legendary Spurs coach is leading an endearing young squad this season, expected at first glance to be ace tankers, but who in fact, at the end of the first week of competition, surprise very positively with the second best record of the Western conference (3-1).
" They play hard, and enjoy playing for each other. While learning, for the most part, to play collectively in this league. Some gain confidence visibly, and it shows on the floor. […] They are humble but confident. Of course, we won't win every match, but they play with an intensity that shows they want to win every match. We sleep peacefully at night when we have a group like this. » added the legendary Spurs coach.
The "Spurs culture" is still very much alive
With the season both still young and still very long, it is impossible to draw any conclusions about these Spurs' goals. And like the Jazz, the other surprise team in the Western Conference, their current form probably won't last the length of a regular season.
But for now, these young Spurs, in good respect for the culture of their club since the departure of their historic "Big Three", are doing with the means on board and refuting the "tanking".
" I try not to listen to what is being said, but I'm not going to lie, it's sometimes frustrating to hear that we should lose, that we have to tank, tank, tank. "said Devin Vassell, one of the strong men of the San Antonio club this season. " We are professional athletes. We want to play basketball, and therefore win. When we look at our calendar, we don't say 'are we going to win this one? Or this one?'. It's bad to know us. Our only objective is to be competitive and to win matches. »
" We can only be happy for them"Simply concludes Gregg Popovich, serene and happy with his situation, at 73 years old.
Shots
Bounces
Players
GM
Minimum
Shots
3 points
LF
Off
Def
Early
pd
bp
Int
CT
party
Points
Keldon Johnson
4
32.2
44.9
36.7
60.0
1.0
5.3
6.3
3.5
2.0
1.5
0.0
1.8
20.5
Devin Vasell
4
32.5
40.9
39.4
75.0
0.3
4.8
5.0
4.5
1.0
1.3
0.0
1.3
19.8
Jakob Poeltl
4
28.3
60.0
0.0
60.9
5.3
5.5
10.8
3.5
2.0
0.5
0.5
2.3
15.5
Tre Jones
4
29.9
47.6
33.3
93.3
0.8
3.0
3.8
4.5
2.0
1.8
0.5
2.8
14.3
Josh Richardson
4
20.8
50.0
47.4
100.0
0.0
2.0
2.0
1.5
1.5
0.8
0.0
1.8
11.8
Doug Mcdermott
4
17.5
44.4
50.0
0.0
0.5
1.3
1.8
1.3
0.8
0.0
0.3
1.3
7.8
Joshua Primo
4
23.3
34.6
25.0
77.8
0.5
2.8
3.3
4.5
2.8
0.3
0.5
2.0
7.0
Zach Collins
4
14.0
52.4
33.3
66.7
1.0
1.8
2.8
2.5
1.5
0.5
1.8
2.8
6.5
Jeremy Sochan
4
20.5
45.8
0.0
33.3
1.3
3.5
4.8
1.3
0.8
0.8
0.3
2.8
5.8
Isaiah Roby
3
11.8
50.0
50.0
33.3
1.0
1.7
2.7
2.0
0.3
1.3
0.7
1.3
4.3
Gorgui Dieng
2
10.7
42.9
20.0
0.0
0.5
1.5
2.0
3.0
0.0
0.0
1.0
2.0
3.5
Keita Bates-diop
4
4.5
80.0
100.0
0.0
0.3
0.0
0.3
0.0
0.3
0.0
0.0
0.0
2.3
Romeo Langford
2
4.6
40.0
0.0
0.0
0.0
0.0
0.0
0.0
0.0
0.0
0.0
0.0
2.0