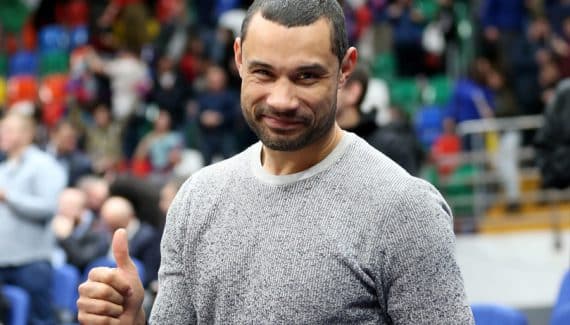 Surveys begin for Washington, fifteen days after the formalization of the dismissal of Tommy Sheppard, who had the double role of president-GM. The summer will thus be an opportunity to redefine the organization chart, from the highest spheres of the franchise to the bench of Wes Unseld Jr.
The Wizards technician's staff has already moved as Alex McLean, director of player development, and Dean Oliver, assistant analytical data specialist, have been let go, the aim being to allow Wes Unseld Jr. to team up with assistants he will have chosen, the two cities having arrived under the Scott Brooks era.
As for the GM position, the washington post mentioned two first names likely to interest the Wizards: Bucks assistant GM Milt Newton and Trajan LangdonGM of the Pelicans, in office since 2019.
If Milt Newton, who notably evolved in high school in Washington, could logically be tempted to move up in rank by inheriting more responsibility as GM, it is more difficult to imagine Trajan Langdon, who has, a priori, no attachment with the federal capital of the United States, leaving New Orleans to join a project at first sight less promising than that developed by the Pelicans. Even if it would be an opportunity for him to become the real sports boss of a club, David Griffin being at the head of the New Orleans project.
The time would only be for the first conversations and the taking of information from the side of Ted Leonsis and the Wizards. Wait and see…
Shots
Bounces
Players
GM
Minimum
Shots
3 points
LF
Off
Def
Early
pd
bp
Int
CT
party
Points
Bradley Beal
50
33.5
50.6
36.5
84.2
0.8
3.1
3.9
5.4
2.9
0.9
0.7
2.1
23.2
Kristaps Porzingis
65
32.6
49.8
38.5
85.1
1.8
6.6
8.4
2.7
2.1
0.9
1.5
3.0
23.2
Kyle Kuzma
64
35.0
44.8
33.3
73.0
0.9
6.4
7.2
3.7
3.0
0.6
0.5
2.3
21.2
Rui Hachimura
30
24.3
48.8
33.7
75.9
0.6
3.6
4.3
1.2
1.2
0.4
0.4
1.3
13.0
Corey Kispert
74
28.3
49.7
42.4
85.2
0.4
2.4
2.8
1.2
0.7
0.4
0.1
1.3
11.1
Monte Morris
62
27.4
48.0
38.2
83.1
0.4
3.0
3.4
5.3
1.0
0.7
0.2
1.2
10.3
Deni Avdija
76
26.6
43.7
29.7
73.9
1.0
5.4
6.4
2.8
1.6
0.9
0.4
2.8
9.2
Daniel Gafford
78
20.6
73.2
0.0
67.9
2.1
3.5
5.6
1.1
1.1
0.4
1.3
2.4
9.0
Will Barton
40
19.6
38.6
37.7
77.8
0.3
2.5
2.8
2.4
1.1
0.4
0.3
1.0
7.7
Kendrick Nunn
31
14.1
44.7
39.2
90.0
0.3
1.4
1.7
1.8
1.1
0.5
0.1
1.0
7.5
Delon Wright
50
24.4
47.4
34.5
86.7
1.2
2.4
3.6
3.9
0.9
1.8
0.3
1.2
7.4
james huff
7
13.6
60.0
50.0
93.8
0.9
2.1
3.0
1.4
0.7
0.4
0.6
2.1
7.3
Jordan Goodwin
62
17.8
44.8
32.2
76.8
0.9
2.4
3.3
2.7
0.9
0.9
0.4
1.5
6.6
quenton jackson
9
15.0
45.2
8.3
77.3
0.2
0.7
0.9
1.7
0.4
0.4
0.1
1.1
6.2
Johnny Davis
28
15.1
38.6
24.3
51.9
0.3
1.9
2.3
1.0
0.6
0.4
0.3
1.7
5.8
xavier cooks
10
12.6
60.7
0.0
40.0
1.6
2.2
3.8
0.6
0.8
0.6
0.4
1.3
3.8
Taj Gibson
49
9.8
52.0
33.3
71.4
0.7
1.2
1.9
0.7
0.5
0.3
0.2
1.7
3.4
Anthony Gill
59
10.6
53.8
13.8
73.1
0.6
1.1
1.7
0.6
0.3
0.1
0.2
1.2
3.3
Isaiah Todd
6
10.2
16.7
10.0
100.0
0.3
1.7
2.0
0.7
0.3
0.2
0.0
0.7
1.5
Jordan Schakel
2
3.1
50.0
100.0
0.0
0.0
0.0
0.0
0.5
0.0
0.5
0.0
0.5
1.5
Vernon Carey, Jr.
11
2.6
25.0
0.0
100.0
0.3
0.7
1.0
0.3
0.2
0.2
0.2
0.5
0.5
Devon Dotson
6
8.9
10.0
25.0
0.0
1.0
0.7
1.7
1.3
0.5
0.8
0.0
1.5
0.5
Jamaree Bouyea
1
5.5
0.0
0.0
0.0
0.0
1.0
1.0
0.0
0.0
0.0
0.0
1.0
0.0