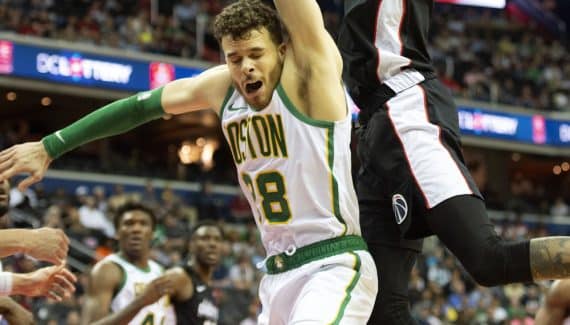 Son of NCAA coach Ron Hunter and godson of former NBA legend Ron Harper, RJ Hunter is in the running to return to the NBA at the age of 29. Born in Akron and passed through Georgia State, the shooting guard has indeed signed up with the North Carolina franchise according to Chris Haynes. It remains to know the content of the agreement sealed between the two parties since Charlotte is already complete with 15 contracts in its workforce after hiring Frank Ntilikina. But it should be remembered that the contracts of JT Thor and Kobi Simmons are not yet guaranteed. Furthermore, PJ Washington also remains free of any commitment as long as it has not agreed to sign its "qualifying offer".
For RJ Hunter, it will in any case be a question of showing that he has recovered well from his ruptured patellar tendon which he suffered in January 2022 while playing for the Sydney Kings (NBL). Drafted in the first round by Boston in 2015, he played 45 total NBA games for the Celtics, Bulls and Rockets from 2015 to 2019. Prior to his knee injury in Australia, he played 15 games with Galatasaray (9 points, 2.2 rebounds and 1.5 assists).
In any case, her profile suggests that Charlotte would consider finalizing her roster by bringing a little more quality to the level of outside shooting on position 2. Last season, the Hornets had the second-worst percentage of success in the league in terms of 3-dot address. Only LaMelo Ball had finished the season beyond the 35% success rate behind the arc, with only 36 games played.
Shots
Bounces
Players
GM
Minimum
Shots
3 points
LF
Off
Def
Early
pd
bp
Int
CT
party
Points
Lamelo Ball
36
35.2
41.1
37.6
83.6
1.2
5.3
6.4
8.4
3.6
1.3
0.3
3.3
23.3
terry rozier
63
35.3
41.5
32.7
80.9
0.8
3.3
4.1
5.1
2.1
1.2
0.3
1.9
21.1
Kelly Oubre, Jr.
48
32.2
43.1
31.9
76.0
1.4
3.8
5.2
1.1
1.3
1.4
0.4
2.9
20.3
Pj Washington
73
32.6
44.4
34.8
73.0
1.0
3.9
4.9
2.4
1.5
0.9
1.1
2.6
15.7
Gordon Hayward
50
31.5
47.5
32.5
81.1
0.7
3.6
4.3
4.1
2.0
0.8
0.2
1.4
14.7
mason plumlee
56
28.5
66.9
0.0
60.5
3.3
6.3
9.7
3.7
1.6
0.6
0.6
2.9
12.2
Jalen Mcdaniels
56
26.7
44.7
32.2
84.6
0.8
4.0
4.8
2.0
1.4
1.2
0.5
2.8
10.6
Svi Mykhailiuk
19
22.5
44.1
40.4
67.6
0.8
1.6
2.4
2.7
1.2
0.7
0.2
1.2
10.6
mark williams
43
19.3
63.7
0.0
69.1
2.2
4.9
7.1
0.4
0.9
0.7
1.0
2.2
9.0
Dennis Smith
54
25.7
41.2
21.6
73.6
0.5
2.6
3.1
4.8
1.5
1.4
0.5
2.3
8.8
Nick Richards
65
18.7
62.9
100.0
74.9
2.3
4.1
6.4
0.6
0.9
0.2
1.1
2.4
8.2
Theo Maledon
44
19.4
40.2
29.5
85.1
0.3
2.5
2.8
3.5
1.3
0.8
0.3
1.4
6.7
james bouknight
34
15.2
35.8
30.3
66.7
0.2
1.9
2.1
1.2
0.9
0.4
0.1
1.4
5.6
Bryce McGowens
46
17.1
39.6
32.5
75.0
0.4
1.6
2.0
1.2
0.9
0.3
0.1
1.0
5.3
Cody Martin
7
19.1
38.9
21.4
57.1
1.1
2.3
3.4
1.6
0.3
0.6
0.1
1.9
5.0
Xavier Sneed
4
12.1
50.0
50.0
100.0
0.0
1.3
1.3
1.3
0.8
0.0
0.3
1.8
4.3
Jt Thor
69
14.0
39.9
31.7
70.2
0.5
1.7
2.2
0.5
0.6
0.3
0.3
1.0
3.8
Kai Jones
46
11.9
55.8
21.1
73.1
0.8
1.9
2.7
0.3
0.7
0.4
0.7
1.4
3.4
Kobi Simmons
5
5.6
16.7
20.0
100.0
0.2
0.6
0.8
1.0
0.2
0.0
0.4
0.0
1.0