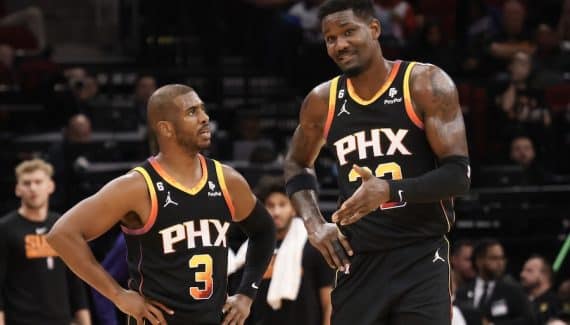 December 4, 2022. The Suns won by a wide margin (+38!) on the Spurs floor and consolidated their first place in the West with a fine record of 16 wins and 7 losses. Ten days later? Arizona players are no longer far from being ejected from the Top 4.
The explanation is simple: they have not won since this outing in Texas. And in such a dense and tight conference in terms of results, a series of five straight defeats is paid for in cash.
Last setback to date, this night on the floor of the Rockets, yet dunce caps in the West, who had already beaten the Suns in early December. A meeting ended on one of the worst offensive performances of their season.
At the break, Monty Williams players had scored only 35 points. They reacted well thereafter with more than double scored in the next two quarters, but their overall address capped at… 32% success (33/103), including 25.5% from afar (13/51) . Symbol of this awkwardness never known at home this season: Mikal Bridges, certainly his team's top scorer (18 points) but with an unqualified 4/24 on shots.
" Many of our missed shots generated counter-attacking opportunities for them. We didn't shoot well at all in the first half. It got us into trouble. In the second half, we scored 62 points, without Book, without DA, without Cam », lists Monty Williamswhose team has never led in the game.
Memories of December 2019
Devin Booker was in the infirmary, as was Cam Johnson, while Deandre Ayton (ankle) and Cameron Payne (foot) had to leave their teammates during the game.
" What I tell our guys is that we are going to have matches like this. I thought we stayed competitive, we defended ", nuance the coach, before adding:" Mikal finishes at 4/24. It's a tough combination when you don't have Book and all the other guys on the sidelines. »
This defeat, with a failed attack, comes after the double loss conceded on the floor of the new No. 1 in the West, the Pelicans. Before that, the Suns lost heavily at home to the Celtics, after a big loss in Dallas.
" The thing with me, Book, DA, Mikal, Cam, Dario (Saric) it's because we had series like that during our first year. And we kept on going, that's what we gotta do now ", Continues Monty Williams, whose team had suffered a series of eight consecutive defeats in December 2019. Since that time, and until today therefore, the Suns had never lost more than four games in a row.
Worried Chris Paul (16 points at 5/17 tonight)? " Not really. As long as the locker room stays positive and understands that the season is long. We did… an 18-game winning streak (last season) and we lost in the second round. You see ? In this league, you can't feel too high or too low. »
Possible reaction Thursday evening on the Clippers' floor, before playing four rather tough games at home (Pelicans, Lakers, Wizards and Grizzlies).
Shots
Bounces
Players
GM
Minimum
Shots
3 points
LF
Off
Def
Early
pd
bp
Int
CT
party
Points
Devin Booker
26
35.4
47.8
37.5
86.6
0.8
4.0
4.8
5.8
2.5
1.0
0.4
2.8
27.4
Deandre Ayton
25
29.4
63.2
30.8
71.8
3.0
6.8
9.8
2.2
2.0
0.5
0.8
3.0
17.5
Mikal Bridges
27
36.4
49.1
42.7
89.3
1.2
3.9
5.1
3.2
1.1
1.1
0.9
2.2
15.8
Cameron Johnson
8
25.3
44.6
43.1
72.7
0.6
2.8
3.4
1.8
0.3
1.1
0.4
1.8
13.0
Cameron Payne
25
25.5
41.1
37.5
76.6
0.4
2.1
2.5
5.5
2.0
1.0
0.2
2.2
12.8
Chris Paul
13
30.3
37.7
31.9
87.2
0.5
4.2
4.6
8.9
1.9
1.5
0.2
2.7
9.9
Damion Lee
27
21.4
46.7
48.6
92.0
0.7
2.7
3.5
1.3
0.8
0.4
0.1
1.5
8.4
Torrey Craig
24
24.4
48.4
39.3
80.0
1.9
3.0
5.0
1.5
0.8
0.5
0.8
2.3
8.3
Landry Shamet
18
16.0
41.5
39.7
85.0
0.2
0.6
0.8
1.3
0.9
0.6
0.2
1.3
6.8
Jock Landale
24
13.1
52.7
16.1
77.8
1.5
2.0
3.6
0.8
0.8
0.3
0.7
1.9
6.3
Duane Washington, Jr.
15
9.0
37.7
28.2
0.0
0.0
0.6
0.6
0.7
0.6
0.1
0.1
0.5
4.6
Ish Wainright
10
13.4
46.4
50.0
66.7
0.9
1.0
1.9
1.1
0.3
0.6
0.2
1.6
4.0
Dario Saric
14
12.0
34.5
32.0
77.8
1.1
2.3
3.4
1.1
0.6
0.2
0.1
1.6
3.8
Josh Okogie
23
9.0
38.2
25.0
71.4
1.0
1.3
2.2
0.8
0.6
0.6
0.3
1.2
3.5
Bismack Biyombo
21
11.8
51.9
0.0
40.0
0.9
2.4
3.3
0.8
1.0
0.3
1.4
1.8
3.0