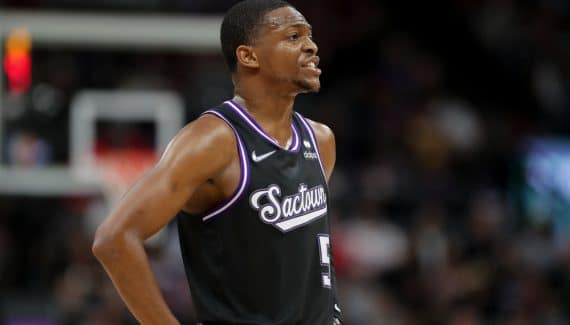 De'Aaron Fox is patient… Apart from a very small thinning in 2018-2019, the leader has only known 12th place since his arrival in Sacramento.
At the end of last season, he sometimes appeared without his usual smile, just disgusted at losing again and again. The player said he suffered a lot from a very complicated situation, but assures that the worst is over and now faces the future with a smile.
"Losing is no fun. I've said it before, I've never been used to losing, and when it happens again for five years, it's clearly something that weighed a bit." he confided. "But now that we have new faces in the staff, in the team, they have nothing to do with it, so it's a whole new team. I feel like a lot of guys are getting a fresh start, so to speak, and it feels good. »
Win in Sacramento
Even during the toughest times, De'Aaron Fox never thought about asking to leave or being put on a trade. The reconstruction process started during last season did not ultimately concern him directly.
Today, he believes he has never been so well surrounded, between the arrival of Domantas Sabonis last season, and the reinforcements of Kevin Huerter, Malik Monk and rookie Keegan Murray
"For me, if they wanted a change and I was traded, I would have taken it as part of the business. Guys who are paid more than me have been traded. Guys who don't make a lot of money were traded too. You have to know that you can be traded at any time, so I don't really think about that. But I want to win here and I've said that many times. I think we now have the team to do it. I think it's the most talented team I've been on since I've been in the NBA, by far."
Reasons for hope are undoubtedly more numerous than in previous years. And not to spoil anything, the leader says he is in Olympic form, ready to attack the season with a qualification in the playoffs in sight.
"Any time you talk to a Kings fan, nine times out of ten, they're going to bring up 2001-02, and I want to be able to give them those kind of memories too. I want to win for myself, but also for the Kings fans around the world and here in Sacramento who want to get back to that level of victory. Even having Doug Christie and Bobby Jackson in the room. For me, for them and for all the fans, I want to get back to that standard."