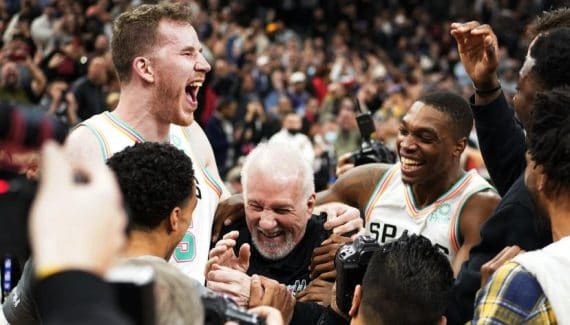 1,336 victories on the clock! Gregg Popovich made history tonight by becoming the winningest coach (in the regular season), overtaking Don Nelson after a crazy end to the game between San Antonio and Utah.
The Spurs were indeed led by ten points at the start of the fourth quarter and even fell to -15 (66-81) 10 minutes from the end, before the magic finally worked, offering Coach Pop' his 1,336th victory, in the wake of a Murray-Poeltl duo of great evenings (104-102 final score).
"Gregg Popovich's success with Spurs is unprecedented in our league. It is therefore only fitting that he now grabs the record for career victories," said "commissioner" Adam Silver. "His leadership and unwavering commitment to the game are widely admired by generations of players and coaches. Congratulations to Coach Pop on this new achievement in his legendary career."
One more feat in his legend
"Legendary", the word is well found. The feat is all the more resounding for Gregg Popovich because it was accomplished in a single franchise, in San Antonio where he has been coaching for 26 years, a record for longevity in the world of American professional sport.
The stability and the ability to renew its workforce, to unearth nuggets like Tony Parker, Kawhi Leonard or more recently Dejounte Murray, have built its legend over the years and five NBA championship titles.
"I think he was able to adapt", declared its very first "franchise player", Hall of Famer David Robinson. "He won in different circumstances with different groups. We were a dominant defensive team, until teams with Kawhi Leonard and all these guys came in dominant on offense. They had a good mix on both sides. And even now you see how he had to adapt to a very, very different team. I think that's what made it bigger. How can you win 67% of your matches or anything else for 25 years? It's ridiculous. It's quite incredible".
An example of humility
Without superstars, what coach Pop has accomplished this season is indeed as remarkable as all the rest while San Antonio is still at the gates of the "play-in" after this 26th victory. Even acclaimed by a whole room and carried in triumph by his team, he remained very sober. Humility is also what makes her strong.
"Pop doesn't like praise. He doesn't like any of that."had entrusted Dejounte Murray. "That's quite a good thing. But you also want to remind him of his success because that's rare. Because he's a guy who just wants to focus on winning and every day. He never talks about himself. We never talk about his record, but we will certainly celebrate when we win for him, because he is a great man and he deserves it. He pushes all his players, whether you are the first, the last, a G-League player, a 10-day contract, he adopts you from day one. He deserves it all."
The time has now come for Gregg Popovich to savor this immense feat with his group before getting back to work very quickly. The "back-to-back" against Indiana tonight is not going to prepare itself!
Shots
Bounces
Players
GM
Minimum
Shots
3 points
LF
Off
Def
Early
pd
bp
Int
CT
party
Points
Dejounte Murray
58
34.6
46.6
31.5
77.8
1.3
7.2
8.4
9.4
2.6
2.1
0.3
2.1
20.6
Keldon Johnson
61
31.4
46.6
41.0
74.9
1.1
4.9
6.0
1.8
1.3
0.7
0.1
1.9
16.1
Derrick White
49
30.3
42.6
31.4
86.9
0.5
3.0
3.5
5.6
1.8
1.0
0.9
2.4
14.4
Jakob Poeltl
55
29.3
61.9
100.0
48.4
3.9
5.3
9.1
3.0
1.6
0.7
1.7
3.1
13.5
lonnie walker
60
23.2
41.0
31.0
78.1
0.3
2.3
2.5
2.2
1.1
0.6
0.3
1.5
12.0
Devin Vasell
57
26.3
43.1
34.4
81.5
0.6
3.7
4.3
1.8
0.8
1.0
0.6
2.1
11.7
Doug Mcdermott
50
24.4
46.2
42.2
77.1
0.4
1.9
2.3
1.3
0.8
0.3
0.1
1.6
11.5
Bryn Forbes
40
16.9
43.2
41.7
89.8
0.1
1.5
1.6
1.0
0.8
0.4
0.1
1.1
9.1
Romeo Langford
1
16.1
75.0
0.0
25.0
0.0
1.0
1.0
0.0
0.0
0.0
0.0
0.0
7.0
Thaddeus Young
26
14.3
57.8
0.0
45.5
1.5
2.0
3.6
2.3
1.2
0.9
0.3
1.5
6.1
Josh Richardson
6
17.0
38.7
61.5
100.0
0.7
1.0
1.7
2.0
0.5
0.2
0.5
1.3
5.7
Keita Bates-diop
50
16.2
50.9
34.7
70.8
1.0
2.9
3.9
0.7
0.7
0.5
0.3
1.1
5.4
Tre Jones
53
14.5
50.5
11.5
79.7
0.4
1.5
1.9
2.8
0.6
0.5
0.0
1.0
5.2
Joshua Primo
35
16.3
37.7
33.3
73.5
0.7
1.3
2.0
1.4
0.9
0.3
0.5
1.4
5.0
Zach Collins
12
15.3
46.8
33.3
75.0
1.8
3.2
4.9
1.7
1.7
0.5
0.5
2.2
5.0
Jock Landale
40
10.3
50.0
32.8
85.7
1.1
1.1
2.2
0.9
0.7
0.2
0.3
1.1
4.8
Drew Eubanks
49
12.1
52.8
12.5
74.7
1.3
2.7
4.0
1.0
0.9
0.3
0.6
1.2
4.7
Devontae Cacok
11
8.4
69.2
0.0
57.1
0.6
2.6
3.3
0.5
0.2
0.6
0.6
1.1
3.6
Tomas Satoransky
1
9.2
0.0
0.0
75.0
0.0
1.0
1.0
0.0
0.0
0.0
0.0
0.0
3.0
Tyler Johnson
3
17.7
20.0
33.3
0.0
0.7
1.3
2.0
1.7
0.3
0.7
0.7
1.0
2.0
Joe Wieskamp
19
5.1
43.3
40.0
42.9
0.2
0.3
0.4
0.3
0.1
0.2
0.1
0.3
1.9
Juancho Hernangomez
5
10.1
33.3
0.0
75.0
0.8
2.2
3.0
0.6
0.4
0.2
0.2
0.0
1.4
Jaylen Morris
3
5.3
0.0
0.0
50.0
0.0
0.7
0.7
0.7
0.3
0.0
0.0
0.7
0.7
Anthony Lamb
2
3.8
0.0
0.0
0.0
0.0
0.5
0.5
1.0
0.0
0.0
0.0
0.0
0.0