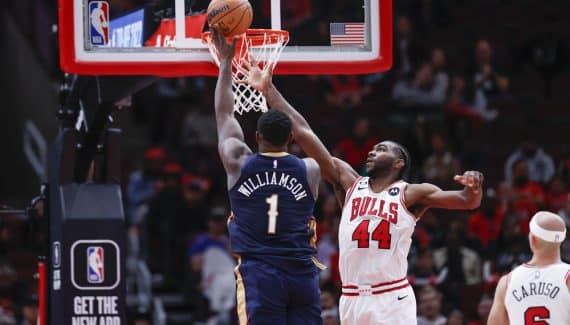 Patrick Williams remained completely frozen. The Bulls winger couldn't cope with the arm swing and the devastating first step of Zion Williamson. This one only needed a dribble to crush the circle, with both hands, coming from the baseline. After months of trouble, the phenomenon of the Pelicans signed his return last night on the floor of the Bulls.
In 15 minutes of play in the victory, he signed 13 points (4/6) and 4 rebounds. And above all showed that he had not lost his mobility, his power and his ease in the air. Evidenced by this small missed shot in the racket after which he re-jumped immediately to end up putting the ball in the circle. Or his impressive counter "chase-down" on the same Patrick Williams, finally invalidated by the referees.
Flashes of his game before, without showing fans all the things he worked on with his trainers at the Pelicans. " I couldn't show them everything. But I try to find my feelings. Find spaces, choose where I want to attack », delivers the 22-year-old after the game.
The discovery of new teammates, a new coach
The strong winger recalls that he evolves with " a new team since his last appearance on the NBA courts. It was May 2021 and CJ McCollum, Jonas Valanciunas or Larry Nance Jr, to name a few, weren't there yet. " I'm still getting to know some of the guys. Today, we managed to get along. If we can do the same in the rest of these pre-season games, we will be in good shape. »
He himself seems in good shape to hear his teammates. " He looked good too. I know he was looking forward to the field and it did him good to hear his name again in the starting lineup, that sort of thing. This is just the beginning remarks Devonte' Graham, for example.
Sentiment shared by their coach Willie Green according to who the team's leading scorer in 2021 " will continue to improve. That's what we know about Z. He's working on it. He's a competitor. And you know, it doesn't look like it, but he scored 13 points and grabbed four rebounds in 15 minutes. That's the kind of work he does on the pitch. »