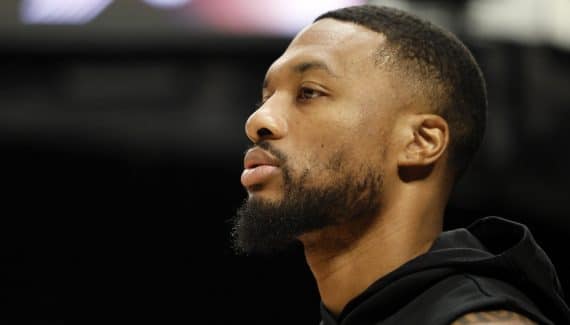 While he was having a very complicated evening with an ugly 2 out of 14 on shots, Damian Lillard was forced to leave his teammates in the middle of the 3rd quarter in the game against Jazz. Like a month ago, his right calf is playing tricks on him. Even if he assures that it is less serious than the first time, he had to pass an MRI in the night.
"Basically, I haven't played for 10 months" he recalled after the Blazers loss. "I had prepared to come back and play. Before that, I had missed maybe two matches with a calf injury. Today, I have to deal with that and it's frustrating. Especially given the start of the season that we are making. Tonight, I felt discomfort on a shot, and coming back to defense, it was pulling me. I didn't want to risk making things worse, like last time. »
"It's not as serious as the first time"
Since the start of the season, Lillard has missed five complete meetings, and he has not finished two. When he plays and finishes the matches, the Blazers have a very good record of 7 wins for 2 losses.
"The only thing I know is that it's not as serious as the first time" he insists, while he still tried to come back into play. But the staff dissuaded him. "I have to respect what they tell me, and I can't be silly by wanting to do everything to play, at the risk of hurting myself even more. It's hard to accept because I still want to play. But once it's done, there's nothing you can do about it. »
As often, it is the staff who therefore have the last word, and as the Blazers begin a "road trip" on Monday, we will see if Lillard accompanies the group or if he remains in care in Portland.
Damian Lillard
Percentage
Bounces
Season
Crew
GM
Minimum
Shots
3 points
LF
Off
Def
Early
pd
party
Int
bp
CT
Points
2012-13
ORP
82
39
42.9
36.8
84.4
0.5
2.6
3.1
6.5
2.1
0.9
3.0
0.2
19.1
2013-14
ORP
82
36
42.4
39.4
87.1
0.4
3.1
3.5
5.6
2.4
0.8
2.4
0.3
20.7
2014-15
ORP
82
36
43.4
34.3
86.4
0.6
4.0
4.6
6.2
2.0
1.2
2.7
0.3
21.0
2015-16
ORP
75
36
41.9
37.5
89.2
0.6
3.4
4.0
6.8
2.2
0.9
3.2
0.4
25.1
2016-17
ORP
75
36
44.4
37.0
89.5
0.6
4.3
4.9
5.9
2.0
0.9
2.6
0.3
27.0
2017-18
ORP
73
37
43.9
36.1
91.6
0.9
3.6
4.5
6.6
1.6
1.1
2.8
0.4
26.9
2018-19
ORP
80
36
44.4
36.9
91.2
0.9
3.8
4.6
6.9
1.9
1.1
2.7
0.4
25.8
2019-20
ORP
66
38
46.3
40.1
88.8
0.5
3.8
4.3
8.0
1.7
1.1
2.9
0.3
30.0
2020-21
ORP
67
36
45.1
39.1
92.8
0.5
3.8
4.2
7.5
1.5
0.9
3.0
0.3
28.8
2021-22
ORP
29
36
40.2
32.4
87.8
0.5
3.7
4.1
7.3
1.3
0.6
2.9
0.4
24.0
2022-23
ORP
10
36
44.3
36.4
87.4
1.0
3.5
4.5
7.0
1.6
0.6
4.0
0.3
27.6
Total
721
36
43.7
37.2
89.2
0.6
3.6
4.2
6.7
1.9
1.0
2.8
0.3
24.7