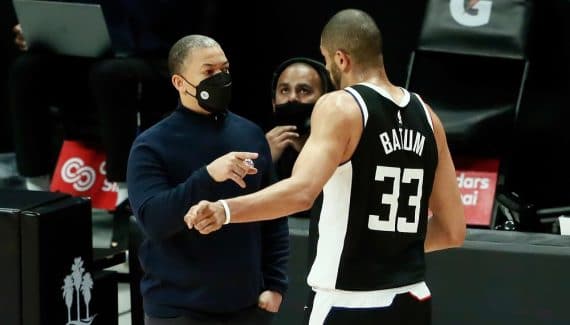 The latest news regarding Paul George has hardly been reassuring. Yes, the winger affected by an elbow ligament is better, but no, it is not sure that he will return to the courts this season.
Will the Clippers finish this 2021/22 fiscal year without Paul George or Kawhi Leonard, who we still haven't seen on the pitch this year? Answer in a while, and in the meantime, the Clippers are doing their best to exist and ensure their place for the "play-in".
"We are fighting for our lives", assured Tyronn Lueafter the victory against the Lakers. "You have to give everything. We must approach the matches one after the other, and try to win them no matter what: 81-80, 80-79 or 150-149. It doesn't matter, you need the victory, that's all. It's sort of our driving force this season. "
How do you keep a group motivated for so long without its two best players? This is the challenge for Tyronn Lue, who explained that he has made progress this season in the face of these difficulties. Because playing without your best players for a few days or weeks is one thing, not having them for long months is much more complicated.
"We had situations last season where Leonard and George were out for three or four games," recalls the champion coach in 2016, still in the columns of The Athletic. "In times like these, you can put up with it for a week and see the end of the tunnel. Right now, we don't know when they'll be back. It's the hardest thing to live with. "
Don't think about Kawhi Leonard and Paul George
The former Cleveland coach must not only find sporting solutions, in order to be competitive night after night, but also mental solutions to keep his group in the best conditions since, deprived of the two All-Stars, the workforce could sometimes lower your arms and your head.
Since the arrivals of Paul George and Kawgi Leonard, the Californians had lost only 23 and 25 matches in the regular season. There, they are already at 31 losses and there are 20 games left to play…
"The credit goes to the players, for what they have been doing since the start of the season. We must continue like this"announces and hopes Tyronn Lue. "I try to have fun, to relax. I let the players enjoy it too. It's hard to do without our two best players for so long, to be focused on a daily basis, for each match. My job is to give them days off to have fun, to be together. In order to enjoy the moment and not think about Kawhi and PG. No one will be sorry for us, we have to keep fighting. That's what they've done so far. "
Shots
Bounces
Players
GM
Minimum
Shots
3 points
LF
Off
Def
Early
pd
bp
Int
CT
party
Points
Paul George
26
35.5
42.1
32.3
88.0
0.4
6.7
7.1
5.5
4.2
2.0
0.4
2.5
24.7
Norman Powell
3
26.8
47.6
42.9
85.0
1.0
2.0
3.0
4.0
1.7
0.7
0.7
2.7
21.0
Reggie Jackson
58
30.9
39.5
32.6
84.3
0.5
2.9
3.4
4.6
2.2
0.7
0.2
1.9
16.6
Marcus Morris
37
29.9
44.0
38.2
84.7
0.5
4.2
4.8
2.1
1.3
0.6
0.3
2.3
16.0
Luke Kennard
51
27.9
45.1
45.2
88.7
0.2
3.3
3.5
2.3
0.9
0.7
0.1
1.6
11.9
Terance Mann
61
29.0
48.6
36.2
74.3
1.3
4.0
5.3
2.4
1.0
0.7
0.1
2.2
10.7
James Ennis
2
14.0
63.6
50.0
100.0
1.0
1.5
2.5
0.0
0.5
0.5
0.5
2.0
10.0
Eric Bledsoe
54
25.2
42.1
31.3
76.1
0.5
2.9
3.4
4.2
2.1
1.3
0.4
1.6
9.9
Ivica Zubac
56
24.1
64.5
0.0
71.3
2.6
5.4
8.0
1.4
1.5
0.4
0.9
2.5
9.6
Nicholas Batum
41
24.7
48.0
40.9
66.7
0.5
4.0
4.4
1.5
0.7
1.0
0.8
1.4
8.6
Amir Coffey
49
22.2
46.2
37.9
88.0
0.4
2.5
2.9
1.6
0.6
0.5
0.2
1.3
8.5
Robert Covington
8
19.6
48.9
34.6
76.9
1.2
3.4
4.6
1.1
1.0
1.4
1.0
2.6
8.1
Isaiah Hartenstein
48
16.4
61.7
40.0
64.0
1.5
2.9
4.5
1.9
1.1
0.7
1.1
2.4
7.5
Bj Boston, Jr.
41
15.1
37.1
29.8
84.7
0.3
2.0
2.3
0.9
0.6
0.5
0.3
0.9
6.7
Serge Ibaka
35
15.4
49.0
38.7
69.0
1.1
3.1
4.3
1.0
0.9
0.2
0.7
1.6
6.6
Xavier Moon
6
13.9
41.2
30.0
66.7
0.2
1.3
1.5
1.7
0.5
0.8
0.2
0.7
5.5
Justise Winslow
37
13.0
44.7
17.2
61.0
0.8
2.8
3.6
1.4
1.0
0.6
0.5
1.2
4.2
Keon Johnson
15
9.0
33.3
27.3
76.2
0.4
1.0
1.4
0.9
0.5
0.5
0.1
1.4
3.5
Semi Ojeleye
2
6.7
28.6
33.3
66.7
0.5
0.5
1.0
0.0
1.0
0.0
0.0
0.0
3.5
Jayden Scrubb
18
6.7
39.1
28.6
70.0
0.1
0.8
0.9
0.4
0.4
0.2
0.2
0.5
2.7
Wenyen Gabriel
6
7.7
38.5
40.0
50.0
0.8
1.5
2.3
0.3
0.5
0.2
0.3
1.8
2.3
Moses Wright
1
1.5
0.0
0.0
0.0
0.0
0.0
0.0
1.0
0.0
0.0
0.0
0.0
0.0
Rodney Hood
2
6.9
0.0
0.0
0.0
0.0
0.5
0.5
0.5
0.0
0.0
0.0
0.0
0.0