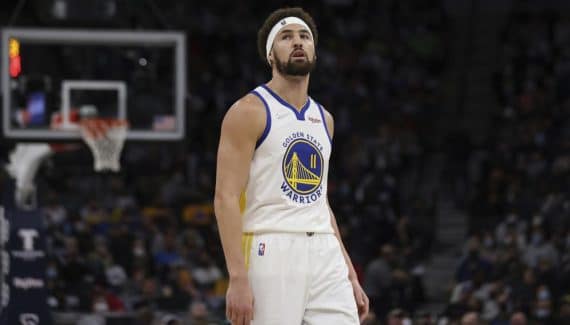 With 29 minutes spent on the Paycom Center floor, Klay Thompson has come closer than ever this season to the 30-minute mark. And another important element: he played 17 minutes in the second half.
"It's an important moment for me, I hope I can build on it"explains the back at ESPNafter 21 points in this meeting. " I feel very good. And also, I didn't lose any balls, which I don't think has happened this season. (once in reality, against Brooklyn). "
The back of Golden State disputed the "money time", and scored two award-winning baskets, on passes from Stephen Curry, in the last three minutes.
"It was amazing to see Klay in the hot moments", rejoices Steve Kerr. " As his minutes increase, you don't have to think about it anymore. We don't have to take it out anymore. The opposing defense was focused on Curry and took advantage of being free to shoot. It was very nice to see that. "
With a 6/15 in shooting and 3/8 at 3-pts, the triple champion has not yet regained all his sensations in shooting over time. He remains irregular and before his two "money time" missiles, he was only 1/6 behind the arc. But for the Warriors, the essential is elsewhere.
"He's a great shooter, it's his DNA, he always thinks the next shoot will come in"explains Stephen Curry. "So we have confidence. His minutes will increase further and he will continue to make big matches. "
Klay Thompson
Percentage
Bounces
Season
Team
GM
Minimum
Shots
3 points
LF
Off
Def
Early
pd
party
Int
bp
CT
Points
2011-12
GOS
66
24
44.3
41.4
86.8
0.4
2.1
2.4
2.0
2.4
0.7
1.6
0.3
12.5
2012-13
GOS
82
36
42.2
40.1
84.1
0.4
3.3
3.7
2.2
2.9
1.1
1.9
0.6
16.6
2013-14
GOS
81
35
44.4
41.7
79.5
0.5
2.6
3.1
2.2
2.9
0.9
1.7
0.5
18.4
2014-15
GOS
77
32
46.3
43.9
87.9
0.4
2.9
3.2
2.9
1.6
1.1
1.9
0.8
21.7
2015-16
GOS
80
33
47.0
42.5
87.3
0.4
3.4
3.8
2.1
1.9
0.8
1.7
0.6
22.1
2016-17
GOS
78
34
46.8
41.4
85.3
0.6
3.0
3.7
2.1
1.8
0.9
1.6
0.5
22.3
2017-18
GOS
73
34
48.8
44.0
83.7
0.4
3.4
3.8
2.5
1.6
0.8
1.8
0.5
20.0
2018-19
GOS
78
34
46.7
40.2
81.6
0.5
3.4
3.8
2.4
2.0
1.1
1.5
0.6
21.5
2021-22
GOS
11
23
42.9
37.8
100.0
0.6
2.9
3.5
3.1
1.4
0.6
1.7
0.5
16.3
Total
626
33
45.9
41.8
84.9
0.5
3.0
3.5
2.3
2.1
0.9
1.7
0.5
19.5