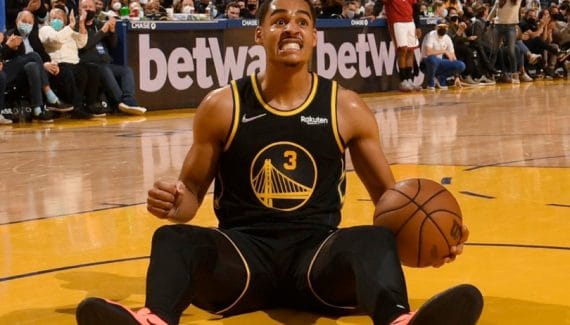 Jordan Poole is currently one of the highest-grossing players in the league. Because in the third year of his rookie contract, for $ 2 million this season, the rear of the Warriors this year brings 16 points, 3 rebounds and 3 assists. What already push the Californian leaders to work on his case, despite still average percentages of address, with 44% general success and only 34% at 3-points.
According to the San Francisco Chroniclethe Californians would intend to offer him a contract extension, over several years, this summer when he still has one year of contract (4 million next year) and could therefore be "protected free agent in the summer of 2023.
The challenge is to know the amount of this potential extension. The daily refers to a specialized site expert spotrac according to whom a four-year contract for 80 million dollars could be put on the table. Spotrac also notes that the fullback is eligible for a five-year extension for $181m.
Finances already in the dark red
Will the Warriors only have the means to bet so much on him? Currently the league's largest payroll ($180 million), the Californian franchise will have to manage the file of Andrew Wiggins, at the end of the contract in 2023, likely to evolve well beyond the annual $30 million. afterwards.
This summer, GM Bob Myers will also have to look into all the contract terminations of a group of soldiers from the team (Kevon Looney, Andre Iguodala, Otto Porter Jr, Nemanja Bjelica, Gary Payton II….). While the only trio Stephen Curry – Klay Thompson – Draymond Green will weigh nearly 115 million dollars in the balance next year.
Jordan Poole
Percentage
Bounces
Season
Team
GM
Minimum
Shots
3 points
LF
Off
Def
Early
pd
party
Int
bp
CT
Points
2019-20
GOS
57
22
33.3
27.9
79.8
0.2
1.9
2.1
2.4
1.7
0.6
1.3
0.2
8.8
2020-21
GOS
51
19
43.2
35.1
88.2
0.3
1.5
1.8
1.9
1.7
0.5
1.0
0.2
12.0
2021-22
GOS
53
29
43.8
33.8
92.2
0.5
2.7
3.1
3.5
2.6
0.8
2.3
0.3
16.4
Total
161
24
40.4
32.5
87.4
0.3
2.0
2.3
2.6
2.0
0.7
1.5
0.2
12.3