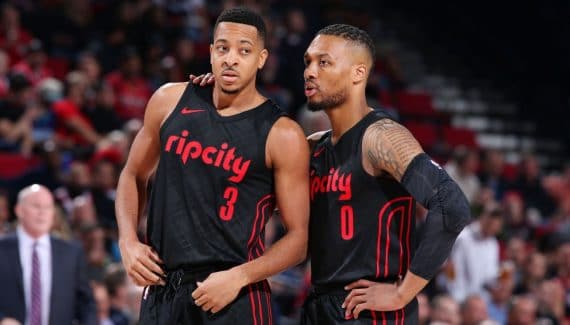 Promoted interim GM since the ousting of Neil Olshey in Portland, Joe Cronin still does not know if he will be able to remove the interim title from his position, because the Oregon franchise will initiate a recruitment process. But it is he who continues to guide the Blazers for the moment, in this parenthesis of power in Rip City.
One week before the transfer deadline, he obviously has some ideas in mind to try to improve the Portland workforce. But, as he explained in a long interview with NBA.com, he does not have his hands completely free to do so. And the idea of ​​​​the Blazers is clearly not to destroy everything to start from scratch.
"I don't think we have the will to destroy everything. We have too many good players for that. And there are too many ways to improve without having to take such a step back. "
At the center of the considerations are obviously Jusuf Nurkic and CJ McCollum, the two lieutenants of Damian Lillard who have big contracts. The Bosnian pivot is for once at the end of the lease and could therefore be the subject of an exchange while the rear is under contract for two more seasons (after this one). But Robert Covington is also one of the names fueling the transfer rumors of the moment…
"Like everyone else, we want to improve. Some teams are looking for this last element to go to the end, others simply want to recover talents. And still others are on a longer project where they want to build and develop their youngsters. For us, it's about staying open-minded. Opportunistic but also meticulous to see the different proposals that will appear and make the right decisions. "
No palace revolution to be expected
Ready to listen to the offers that will come their way, the Blazers have in any case a limited room for maneuver financially, being already above the authorized salary ceiling. Joe Cronin thus advocates patience in his approach to this transfer deadline. Portland will not make a decision on a whim…
" It's delicate. We want to take a long-term approach because we know that a season is a small representation of a larger design. We are all competitors and we want to win. But to do that, sometimes you have to take a step back. Sometimes you just have to be patient. We try to balance what we want to accomplish in the long term by taking things day by day, with the proposals we receive. "
On the side of Portland, we always seem to believe in this group… with the right alterations.
"Together, we won a lot of games. Nurk is coming into his best years. Dame and CJ are already there. These are three very high level players. When we manage to put the right players around them, we have shown that we can be very competitive. "
While their streak of eight consecutive playoff qualifications, the longest running streak in the NBA, is in great danger this year, the Blazers want to stay the course. No major overhaul!
"We don't want to change everything because we think we can do it in a different way"concludes the interim GM. "We believe that with a few small modifications that are not necessarily so drastic as a complete dismantling and a total rebuilding project, we can turn the corner in a different direction. We still have players in their prime who are competitive. "
Shots
Bounces
Players
GM
Minimum
Shots
3 points
LF
Off
Def
Early
pd
bp
Int
CT
party
Points
Damian Lillard
29
36.4
40.2
32.4
87.8
0.4
3.7
4.1
7.3
2.9
0.6
0.4
1.3
24.0
Cj Mccollum
34
35.4
44.0
40.1
69.7
0.9
3.3
4.3
4.5
2.0
1.0
0.6
2.2
20.7
Norman Powell
40
33.3
45.6
40.6
80.3
0.4
2.9
3.3
2.0
1.6
1.0
0.4
2.3
18.6
Anfernee Simons
46
28.4
43.8
39.6
89.9
0.4
2.2
2.7
3.7
1.8
0.5
0.1
2.0
15.7
Jusuf Nurkic
49
27.7
54.3
24.5
68.6
2.8
7.9
10.7
2.7
2.5
1.2
0.6
3.4
14.6
Nassir Little
42
25.9
46.0
33.1
73.4
1.4
4.2
5.6
1.3
1.0
0.6
0.9
2.0
9.8
Ben McLemore
35
17.4
40.9
40.1
76.9
0.2
1.2
1.4
0.8
0.6
0.3
0.1
1.5
8.8
Robert Covington
48
29.8
38.1
34.3
83.3
0.9
4.9
5.7
1.4
1.2
1.5
1.3
2.8
7.6
Larry Nance, Jr.
37
23.2
51.5
30.6
65.3
1.6
4.1
5.6
2.0
0.7
1.0
0.4
1.8
6.9
Dennis Smith
33
17.0
41.8
22.2
66.7
0.5
1.8
2.4
3.3
1.4
1.1
0.3
1.4
5.6
Reggie Perry
2
20.4
44.4
50.0
100.0
1.0
2.5
3.5
1.0
0.5
0.5
0.0
3.0
5.5
Cody Zeller
27
13.1
56.7
0.0
77.6
1.9
2.8
4.6
0.8
0.7
0.3
0.2
2.1
5.2
Cameron McGriff
3
15.3
35.7
33.3
100.0
2.0
3.0
5.0
1.0
0.0
0.0
0.3
2.3
4.7
Trendon Watford
26
11.0
57.1
0.0
66.7
0.7
2.0
2.8
1.0
0.6
0.3
0.5
1.3
4.0
brandon williams
2
5.9
66.7
0.0
57.1
0.0
1.0
1.0
1.0
0.0
0.0
0.0
0.0
4.0
Cj Elleby
28
11.2
43.3
31.8
83.3
0.6
1.5
2.2
0.8
0.4
0.5
0.1
1.4
3.8
Tony Snell
36
13.6
34.6
29.5
100.0
0.3
1.5
1.8
0.5
0.3
0.2
0.1
1.1
2.1
Greg Brown III
21
5.0
46.2
0.0
46.2
0.5
0.9
1.3
0.2
0.3
0.1
0.2
0.7
2.0
Keljin Blevins
9
5.2
35.7
40.0
0.0
0.0
0.3
0.3
0.3
0.6
0.0
0.0
0.2
1.6
Jarron Cumberland
3
4.1
50.0
0.0
0.0
0.3
0.7
1.0
0.3
0.0
0.0
0.0
0.7
0.7