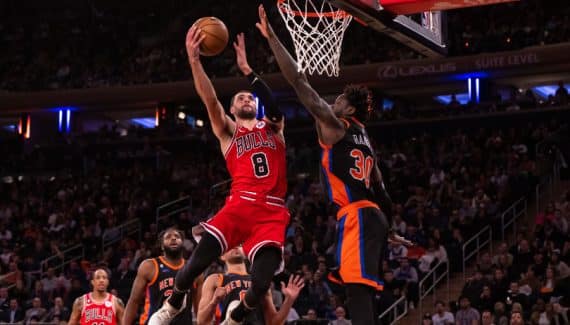 The hour was not to the satisfaction this night, after the defeat of the Bulls vis-a-vis Houston. Beyond the bad start, pointed out by DeMar DeRozan, Zach LaVine lamented the fact that Chicago probably took his evening opponent lightly, a terrible admission while "Windy City" is still outside the Top 10 to the East.
The rear, however, feels that the tide is turning, for his team but also for him. Six months ago, Zach LaVine underwent a knee arthroscopy in order to permanently get rid of recurring pain.
After a complicated first part of the season, his feelings continue to improve. " I feel better. There are always ups and downs. I expected that, I get it. But in the last 10 or 15 games, I felt like myself," he told the Chicago Tribune.
A little more aggressive towards the circle
Statistically, Zach LaVine is running at 24.3 points per game with 52.8% shooting success and 4 assists on average over the last ten games. But it is more at the level of his game that he begins to find the right adjustments. While he took more than 8 3-point attempts in December, his average fell to 6.6 in December before the game the day before. On the other side, his number of baskets registered near the circle has increased.
Proof that he finds his automatisms after having been reluctant to "drive" in the paint.
"I hadn't worked on it"he recalled. "Before training camp, I hadn't touched a ball, so I wasn't jumping, I wasn't training, I wasn't doing anything that I usually do in the summer to prepare for the upcoming season. I found that with the sequence of matches.
Zach LaVine therefore takes fewer 3-point shots, while improving his success percentage (from 31.8% in November to 41.1% in December) and ventures more towards the circle. What also help him to stand a little more on the free throw line when he has never taken so few since playing for Chicago.
"I just needed to find some rhythm and a sense of timing. If you don't do that, you lose yourself."
Zach LaVine
Percentage
Bounces
Season
Team
GM
Minimum
Shots
3 points
LF
Off
Def
Early
pd
party
Int
bp
CT
Points
2014-15
MIN
77
25
42.2
34.1
84.2
0.4
2.4
2.8
3.6
2.1
0.7
2.5
0.1
10.1
2015-16
MIN
82
28
45.2
38.9
79.3
0.3
2.5
2.8
3.1
2.4
0.8
1.9
0.2
14.0
2016-17
MIN
47
37
45.9
38.7
83.6
0.4
3.0
3.4
3.0
2.2
0.9
1.8
0.2
18.9
2017-18
CHI
24
27
38.3
34.1
81.3
0.4
3.5
3.9
3.0
2.3
1.0
1.8
0.2
16.7
2018-19
CHI
63
35
46.7
37.4
83.2
0.6
4.0
4.7
4.5
2.2
1.0
3.4
0.4
23.7
2019-20
CHI
60
35
45.0
38.0
80.2
0.7
4.1
4.8
4.2
2.2
1.5
3.4
0.5
25.5
2020-21
CHI
58
35
50.7
41.9
84.9
0.6
4.4
5.0
4.9
2.4
0.8
3.5
0.5
27.4
2021-22
CHI
67
35
47.6
38.9
85.3
0.3
4.3
4.6
4.5
1.8
0.6
2.6
0.3
24.4
2022-23
CHI
28
35
45.2
37.0
83.2
0.6
3.8
4.4
4.2
2.4
1.1
2.5
0.0
22.1
Total
506
32
46.0
38.5
83.0
0.5
3.5
4.0
3.9
2.2
0.9
2.7
0.3
19.9