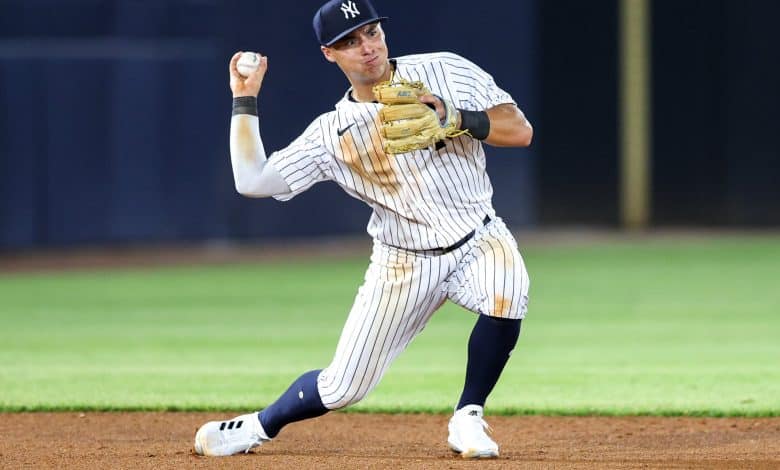 With a brilliant performance yesterday afternoon and another today, there is no longer any doubt that Anthony Volpe won the competition against Oswald Peraza and Isiah Kiner-Falefa for the shortstop position. of the Yankees.
Does that make him the starter for the opener? Not necessarily.
The catch is that Volpe isn't on the 40-man roster and there's a surplus of infield players. And even if the New York supporters claim it almost as much as those of the Canadians demanded Guillaume Latendresse in 2005, nothing is settled.
Trading Gleyber Torres
Brian Cashman must find a solution in order to have his jewel on the field next Thursday. Given that no one wants Kiner-Falefa, one of the options put forward by journalist Ken Rosenthal would be to trade Gleyber Torres and entrust the midfielder to Volpe and Peraza.
Although Torres has good value, I think it's too big a risk for a team that aspires to top honors. There are too many question marks over the performances the two rookies will generate, while with Torres we have a good idea of ​​what he will bring.
Peraza in Scranton Wilkes-Barre
The most logical choice, in my opinion, would be to release someone from the 40-man roster and send Peraza to AAA level. Despite his good performances in the sample that we saw of him last year with the big club, he is not yet an established player. Plus, he's far from knowing a great side, as his .205 batting average indicates.
Should Volpe struggle on his debut and Peraza play well in Scranton, the Yankees will just have to reverse them. This would give Cashman time to find the long-term solution. After all, it is a happy problem.
Hunter Strickland has been released.
Jeurys Familia in Oakland.