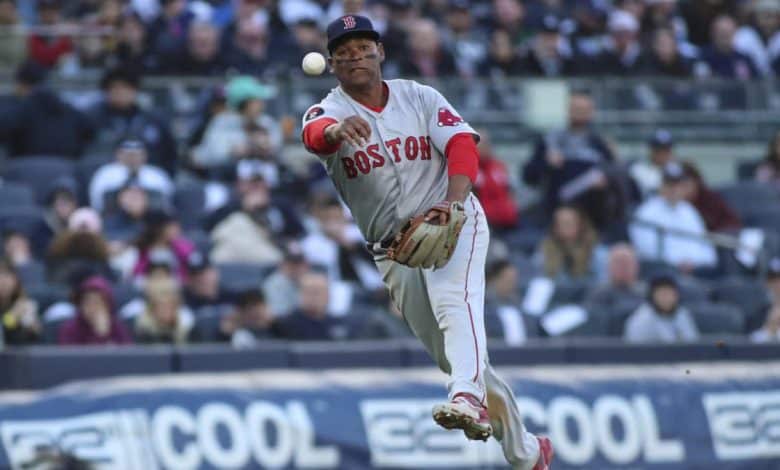 Rafael Devers has been an extremely formidable hitter since his rookie year in MLB. Things haven't changed this year. Devers is second on the American in home runs with 13. Her batting average could be slightly better (it currently sits at .249) and her OPS is .803 .
However, it is the quality of his defensive play that impresses the most this season. The Red Sox star has never really been an asset to his team at third base, but that seems to be a thing of the past.
Two-time Golden Glove winner Manny Machado is largely responsible for Devers' defensive improvement at third base.
The two players had the chance to rub shoulders at the World Baseball Classic, both representing the Dominican Republic. It's a moment Devers has been looking forward to, as he's a big fan of his Dominican counterpart's defensive prowess.
What Machado put forward was to always try to catch the ball with one hand when playing third base. According to him, this way of doing things saves time, which means that the relay to first is not rushed. This is not learned overnight, according to the principal concerned: it is a process that requires a lot of practice before being acquired.
This is what Rafael Devers did:
It was a very good thing to learn. Once you learn how to perform this technique, it becomes much easier to complete the sets of routines and that's what I needed to improve. It's one of the many things I learned from Manny that I'm applying this year.

–Rafael Devers
Devers is in the first year of an 11-year, $313.5 million contract, signed during the offseason. It is out of the question for the 26-year-old to rest on his laurels. He himself recognizes that he had to improve his defense to be recognized as one of the excellent players in major league baseball.
A work ethic that must make many happy in Boston.