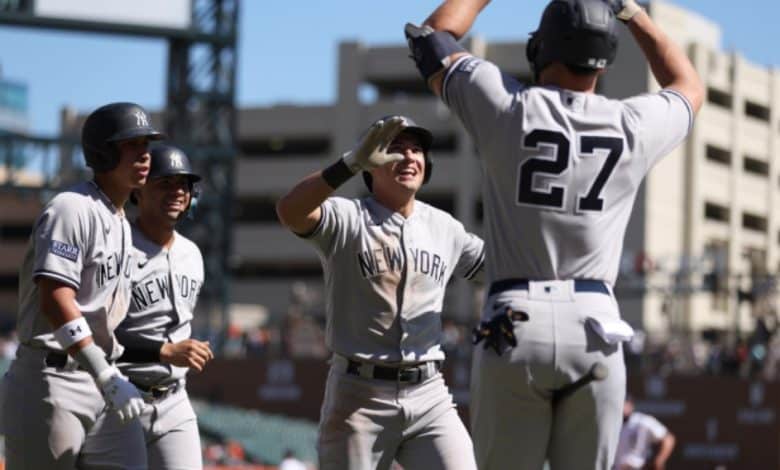 For the first time in years, the Yankees dropped a season before the start of September. The club, which is going absolutely nowhere this year, has reached the stage where it prioritizes 2024 above all else.
The departures of Josh Donaldson and Harrison Bader in the last few days are good examples of this, as are the big hopes that are being recalled in spades these days.
And among the guys who are part of the future of the Yankees, there is undoubtedly Anthony Volpe. The former top prospect has spent the entire season in the Majors, and despite some tough times, he's regained his composure as the campaign progressed.
At what point? To the point where today, he became the first rookie in the rich history of the Yankees with a season of 20 home runs and 20 stolen bases. He is the 15th recruit in history to achieve the feat of arms.
And on top of that, he spoiled himself for his 20th long pitch: Volpe came up to bat in the ninth inning with two outs, even though he had two teammates on the trails and his club was shooting. rear by three points.
With a single stroke of the stick, he allowed the Yankees to believe in it.
But despite Volpe's efforts, the Yankees finally lost in the 10th inning.
The reason? Gleyber Torres was there with a terrible first base throw, which allowed the Tigers to register the winning run.
There are things that unfortunately will never change.
But to come back to Volpe, it's very encouraging to see the young shortstop reach the plateau of 20 homers and 20 stolen bases in his first year. We're talking about a player who has a lot of tools in his chest, and despite his difficulties during the campaign, the numbers are solid in the end.
The strike line (.219/.296/.411) over the whole season is still ordinary, but for the past few weeks it has really improved. His difficult start to the season means that the numbers do not reflect the whole reality, he who has an MPP (OPS) of .863 for 30 days.
Obviously, Volpe is really the hope that was announced in the Bronx for a few years. The youngster has shown he has the potential to be the shortstop of the future for the Yankees and, without necessarily being Derek Jeter, deliver a very solid performance at the position.
In a season of misery for the Bombardiers, this is a rare positive point that bodes well for the future of the club.