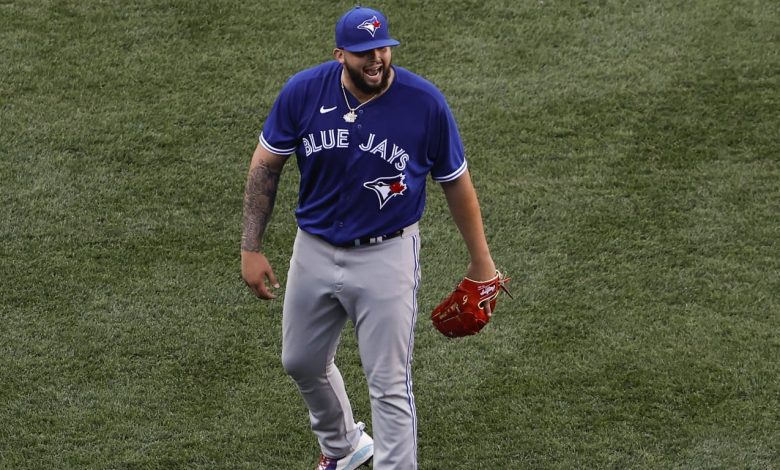 The management of starting pitchers at the Toronto Blue Jays is always a hot topic for the Canadian formation. And the end of the Blue Jays season will be no exception in this area.
The next departure of ace pitcher Alek Manoah has been postponed for a day to give him some rest at the end of the campaign. This therefore means that he will not face the New York Yankees during the series which will begin on Monday. If the Jays had moved closer to the Bronx Bombers in the standings instead of away, the decision would surely have been different.
It's probably the right decision to make, since the big right-hander is at 183 and two-thirds innings, a career high. And the ultimate goal, of course, is to perform well in the playoffs, as pitching coach Pete Walker reminds us.
"He's a guy we want to see perform throughout the post-season. It's kind of uncharted territory for Alek with the number of innings he's pitched, so we want to make sure he's as fresh as possible. I think it will improve his game a bit and maybe give him a bit more velocity early in the game. That's what we hope. "
However, that would also mean he will be available in the last game of the season. Imagine the scenario: the Jays can secure home-field advantage by winning this last meeting. So what would manager John Schneider's decision be? If he puts him on the mound, then that would mean he wouldn't be available for the Wild Card series. Nonsense.
Despite everything, the skipper seems to want to stubbornly seek the advantage of playing all three home games…
"Home advantage would be great. There would be nothing better than playing in front of our fans in the playoffs after the last two years, after we haven't been there and what the world and the country have been through. It would certainly be reasonable to want to play this series at home knowing that we have three other very good starters. "
Some managers lost their jobs for less than that and there's still time for Schneider (who has the interim job) to reconsider, because it's not true that the Jays have three other good starters. With the exception of Gausman, Jose Berrios and Ross Stripling cannot be trusted.