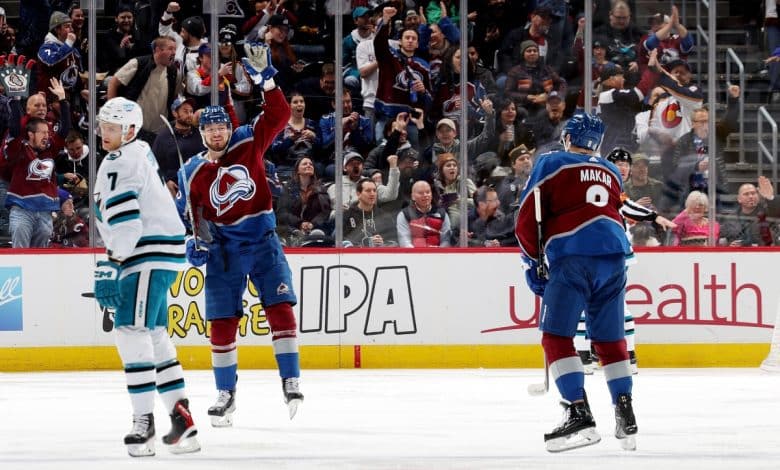 Cale Makar had a dominating performance of one goal and three assists, and the Colorado Avalanche served a 6-0 correction to the San Jose Sharks on Tuesday.
Although it was not facing a team of great talent, Colorado (35-21-6) nevertheless put behind it the three losses suffered in its most recent outings (0-2-1).
Returning to the game last week after struggling with the symptoms of a concussion, Makar gave it his all from the start of the game.
Last season's Norris Trophy winner scored his 14th goal of the season in the fourth minute of play.
After goals from Nathan MacKinnon and Mikko Rantanen, Makar took part in his club's next three goals, those of Valeri Nishushkin, Denis Malgin and Artturi Lehkonen.
After Malgin, the Avalanche's fifth in the game, defeated Kaapo Kahkonen, Kaapo Kahkonen was kicked out and replaced by James Reimer, who gave in once.
The star defender thus reached the plateau of 50 points, in his 49th game of the campaign.
Ironically, the Avalanche No. 8 had mentioned a few days ago that he believed he was bringing bad luck to his teammates.
"It seems to be a causal link: when I'm in training, we start losing," he said, half-seriously, after Sunday's 3-2 overtime loss to Seattle.
Makar also posted a plus-5 differential, in addition to shooting five shots on goal.
For his part, Alexandar Georgiev only had to repel 13 shots to record his easiest shutout of the season, and his fourth in 45 games in front of the Avalanche net.
Lehkonen had a one-goal and one-assist night with a plus-4 differential. The former Canadiens now has 45 points in his record in 59 outings.
Sharks star guard (19-34-12) Erik Karlsson left in the third period, after receiving a high stick directly to the mouth. He did not return to action thereafter.
Zegras eyes widen again
The Anaheim Ducks suffered a 5-2 loss to the Seattle Kraken, but it was Trevor Zegras' prowess that caught the eye.
The young Ducks forward scored another fine goal, looping his stick between his legs while in tight space, before beating Philipp Grubauer under the arm.
It was the 21st goal for Zegras, who has accustomed us to moments of genius, notably by succeeding in the "Michigan" maneuver last year, in his rookie season.
Five different goalscorers helped the Kraken win easily, as Jamie Oleksiak, Jared McCann, Daniel Sprong and Eeli Tolvanen all eluded John Gibson.
Jaden Schwartz completed the scoring in an abandoned net with 18 seconds left in the third period.
Seattle also quickly gave itself a serious option on the match, scoring twice on its first four throws on Gibson's cage.
It was the fifth straight victory for Dave Hakstol's men, who keep pace with the second-placed Los Angeles Kings in the Pacific Division standings.
The Kraken (37-21-6) are two points behind the Kings (37-20-8), with one more game to play.
Besides Zegras, Quebecer Maxime Comtois also scored for Anaheim (21-35-8), but it was too little too late since there was only 1:27 left in the duel.