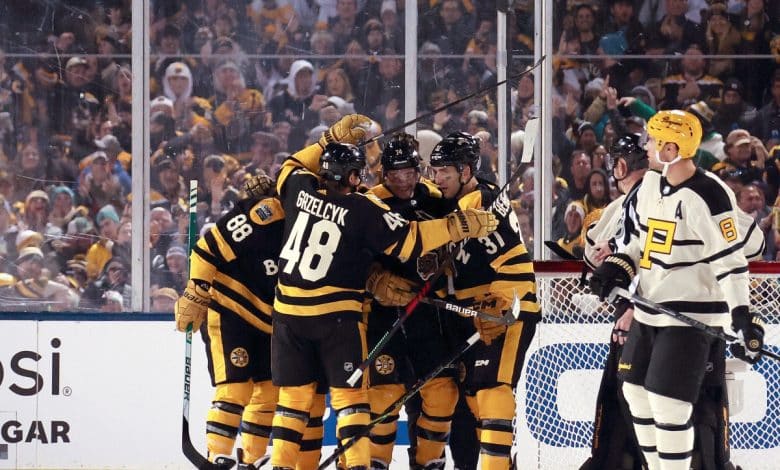 BOSTON – Jake DeBrusk scored his second goal of the third period with just over two minutes left in the final period as the Boston Bruins cruised to a 2-1 win over the Pittsburgh Penguins in the Winter Classic , Monday, at Fenway Park.
Linus Ullmark made 25 saves for the NHL-leading Bruins, who are 8-0-3 in their last 11 games. Since the Bruins were the so-called home team, they improved their home record to 19-0-3 this season.
"It's pure happiness," said Ullmark. It's something I've been dreaming about for 14 years, ever since I saw the first edition at home in Sweden. I've always dreamed of it. I have always been very jealous of the players who played before me and who had this opportunity.
Kasperi Kapanen replied for the Penguins, and Casey DeSmith made 19 saves for Tristan Jarry, who left with an apparent injury late in the first period.
"It's tough losing a guy this early in the game," admitted Penguins head coach Mike Sullivan, who had no update on Jarry. He did, however, mention that the keeper was being assessed for a lower-body injury.
"Obviously it was a very competitive game, a pretty even game, the line between winning and losing was thin and we ended up on the wrong side tonight," he added.
In unusually warm weather for the season, with temperatures approaching 4 degrees Celsius early in the game, the Bruins won for the fourth time at the 14th annual NHL event. The game was played at the home of the Boston Red Sox before a sold-out crowd of 39,243.
This was the second Winter Classic at Fenway Park; Boston beat the Philadelphia Flyers 2-1 in overtime in 2010.
Earlier in the day, Penguins defenseman Kristopher Letang had to leave the team suddenly to join his family in Montreal following the announcement of the death of his father, Claude Fouquet.
DeBrusk, the hero of the day
Playing with the stadium lights illuminating the ice, DeBrusk caught the return of a backhand shot from Taylor Hall and dropped the puck into a gaping cage with 2:24 left in the game.
"It's Fenway Park, the Winter Classic and something everyone dreams of doing," DeBrusk said. We all dream of scoring in the Winter Classic. "
DeBrusk picked up a pass from Brad Marchand just outside the net seconds after a power play ended, cut in front and slid the disc under DeSmith to tie the game at 7:46 of the third period.
At dusk, Kapanen picked up a pass from Danton Heinen and beat Ullmark to the glove side at 8:40 of the middle third to give the Penguins the lead.