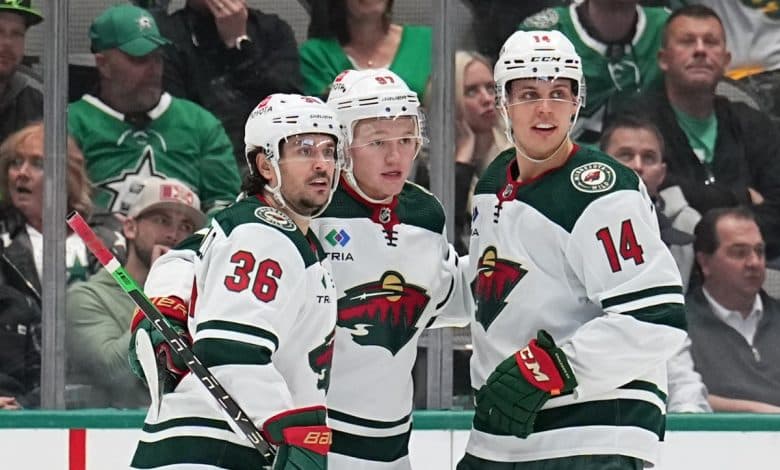 Kirill Kaprizov extended his streak with a goal to six as the Minnesota Wild defeated the Dallas Stars 6-5 in a shootout on Sunday afternoon.
Kaprizov, who now has 19 points in his last 12 games, also hit the mark in a shootout. Roope Hintz, who got a hat trick in the loss, missed his attempt immediately afterwards, then Frédérick Gaudreau scored the game-winning goal at the expense of goaltender Scott Wedgewood.
At the end of the first period, Kaprizov fired a shot with surgical precision for his 16th of the year, which opened the scoring.
In the other clan, Jason Robertson also continued a superb 18-game point streak when he provided an assist on Hintz's goal to tie the game 1-1 in the second period.
Connor Dewar made it 2-1, then Jacob Middleton added it by scoring from the top of the circles. Seconds later, Jordan Greenway scored his first of the season, a third goal in just 2:50 for the visitors.
That's when Jake Oettinger gave way to Wedgewood in front of the cage after giving up four times on 16 shots, which didn't stop the Wild from threatening in the final third, however, with Joel Eriksson Ek carrying the lead. at 5-1.
Hintz finally came back to start the comeback attempt for his team, then Robertson closed the gap with his 23rd goal of the season.
Mason Marchment continued that unanswered three-goal push to add suspense midway through the third period, and Hintz completed his hat trick with 2:11 remaining on the clock.
The Jets come from behind
Morgan Barron and Mark Scheifele scored two quick goals late in the third period to lead the Winnipeg Jets to a 5-2 win over the Anaheim Ducks.
The two teams were tied 2-2 when Barron hit the target at 1:23. Scheifele followed with his 13th goal of the campaign, less than two minutes later.
Saku Maenalanen and Nate Schmidt each had a goal and an assist for the Jets. Dylan Samberg scored his first NHL goal as Kyle Connor added two assists.
Connor Hellebuyck made 28 saves for the Manitoba squad, which will complete its four-game home stint by hosting the Florida Panthers on Tuesday.
Jakob Silfverberg and Brett Leason replied for the Ducks, who have not won in their last six outings (0-4-2).
Anthony Stolarz stopped 35 pucks for the Ducks, who were coming off a 5-4 shootout loss to the Minnesota Wild on Saturday.